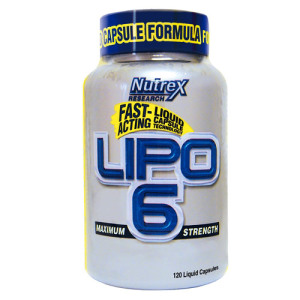 Lipo 6X is a dietary supplement made by Nutrex Research. It is available online and in retail supplement stores, and no prescription is needed. This product endeavors to burn off unwanted body fat quickly. It was rated "fat loss product of the year" in 2009, and is touted as a Multi-Phase formula that takes effect quickly. Lipo 6X has a unique two-phase release technology that is claimed to be very effective for weight reduction.
In order to use this fat burner, two capsules are taken 30 minutes prior to breakfast and dinner. However, for the first two days, only one capsule should be taken for each dose. Lipo 6X is primarily marketed at men.
The Features and Benefits of Lipo 6X
The liquid capsule used for Lipo 6X is claimed to encourage fast results. In only a matter of minutes, users should notice appetite suppression and higher energy levels. This supplement contains key ingredients like Caffeine Anhydrous (200mg), Synephrine (20mg), Synthetic Guggulsterones (20mg), Yohimbine (3mg), and a Synthetic Thermogenesis Activating Complex (100mg of B-Phenylethylamine HCL, N, N-Methyl-B-Phenylethylamine, Tyramine, and Hordenine).
How Lipo 6X Works
One of the primary ingredients found in Lipo 6X is a stimulant and diuretic called Caffeine Anhydrous. This stimulant elevates energy levels and improves focus, and may aid with fat loss and more intense workouts. Synthetic Guggulsterones are included to improve thyroid function, and Hordenine is added to boost the metabolism. As for Tyramine HCL, this ingredient is incorporated to increase thermogenesis so more calories are burned. Yohimbine is included to break down and burn off stored fat, and Synephrine is supposed to control hunger and aid with weight loss.
Pros of Lipo 6X
It is easy to purchase Lipo 6X via the official website.
The ingredient label is clearly posted on the main website for review.
This supplement contains a time-release technology.
Some customer feedback is posted on the website, which is helpful.
Cons of Lipo 6X
Some negative customer feedback is posted on dealer websites like Amazon.
Lipo 6X contains Synephrine, which works in a similar manner to Ephedra (a banned ingredient).
The caffeine in this product may lead to side effects like insomnia, anxiety, jitters, and accelerated heartbeat.
There is no mention of a return policy or refund guarantee with Lipo 6X.
Lipo 6X Price
The list price for this fat-burning supplement is $54.95 (120 capsules), as well as $94.95 (240 capsules).
The Return Policy and Guarantee for Lipo 6X
There is no return policy or money-back guarantee mentioned on the official website. However, some authorized dealers may offer a return policy.
About Company
Nutrex Research was founded in 2002, and is located in Oviedo, Florida. This company provides a good assortment of supplements for muscle building, intense workouts, and weight management. The supplements are available directly through the website, as well as through certified dealers (a dealer locator tool is provided on the website).