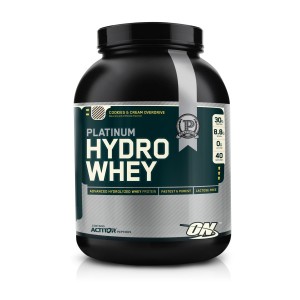 Platinum Hydro Whey is a powder formula that comes in five different flavors. These include chocolate peanut butter, cookies and cream overdrive, supercharged strawberry, turbo chocolate, and velocity vanilla. This supplement is made by Optimum Nutrition, and it can be acquired directly through the official website. The purpose of this powder is to aid with muscle building, fitness training, and muscle recovery after workouts.
One serving of this powder is combined with 12 ounces of milk, juice, or water, and shaken or blended for 30 seconds. It can be consumed at any time of the day, or as a pre or post-workout supplement to assist with muscle growth and increased energy.
The Features and Benefits of Platinum Hydro Whey
This protein powder contains Hydrolyzed Whey Protein Isolates, in addition to Micronized Branched Chain Amino Acids. As for the nutrition specifics, this formula provides one gram of fat, no cholesterol, 190 milligrams of sodium, two grams of carbohydrates, one gram of sugar, and 30 grams of protein. According to the website, this protein supplement dissolves easily in milk or water, and has a fast delivery system to get protein to the muscles more quickly.
How Platinum Hydro Whey Works
The core ingredient found in this supplement powder is Hydrolyzed Whey Protein Isolates, which aids the muscles with both growth and recovery after workouts. These whey protein isolates are claimed to take effect more quickly because they break down large proteins into smaller ones, which allows them to enter the blood faster. The Branched Chain Amino Acids in this product help build lean muscle tissue and encourage repairs. Digestive enzymes are also used in this powder to help promote good digestive health and protein use.
Pros of Platinum Hydro Whey
There are five different flavors of Platinum Hydro Whey.
This powder provides 30 grams of protein per serving.
This supplement provides BCAAs to aid with muscle repairs.
No cholesterol is found in this protein powder.
Cons of Platinum Hydro Whey
This product is certainly more expensive than others.
There is no solid money-back guarantee offered.
Some users complained about the artificial sweeteners used in Platinum Hydro Whey.
There are customer complaints regarding the taste.
Platinum Hydro Whey Price
This supplement powder is available in two different sizes, which are 1.75 pounds ($35.99) and 3.5 pounds ($63.99).
The Return Policy and Guarantee for Platinum Hydro Whey
There is a 30-day return policy mentioned on the company website, but for products like Platinum Hydro Whey, at least 75% of the product should be unused to be considered for a refund. Furthermore, it must be purchased through the website to be eligible.
About Company
Optimum Nutrition set out to satisfy the demand for high quality supplements in the sports nutrition market. They have been in business since 1986, and offer protein powders, weight gainers, diet products, vitamins, and recovery supplements to suit various needs.