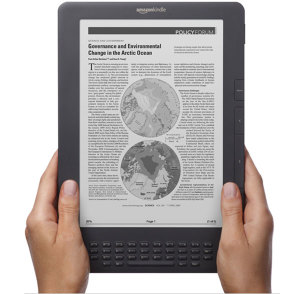 Review of Amazon Kindle Ebook Reader:
Amazon Kindle measures 4.9 x 7.5 x 0.7 inches and weighs 10.3 ounces. It utilizes electronic paper technology to display in high resolution on its 6-inch display screen. The screen has effortless readability with vibrant text that can be resized with the help of button located on its keyboard. Content navigation is achieved using a select wheel and buttons such as previous', 'next' and 'back'. The usage of select wheel with ease requires a learning curve.
Another remarkable feature of Amazon Kindle is the non-requirement of a computer for downloading the ebooks of your choice. With your Amazon account, you can easily and immediately download from online bookstore through high speed cellular data network with wireless accessibility. Just as how you browse through Amazon bookstore online to purchase books, the same can be done with Amazon Kindle too. Once you make a purchase, swift download of your ebook to your reader takes place.
Not only books, you can also download magazines, blogs and newspapers by paying fees for monthly subscription. Kindle has the ability to hold hundreds of books with a dictionary built-in for word look ups. You also have the privilege of bookmarking the content to continue reading at a later point of time. MP3 file loading can also be performed.
Take into consideration that due to Kindle's absence of backlight, night time screen viewing is not possible. Also, the photos will not be in color as the screen is black and white.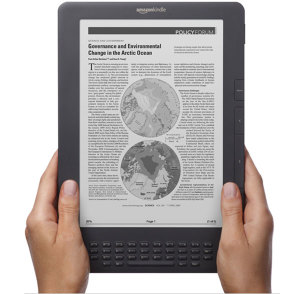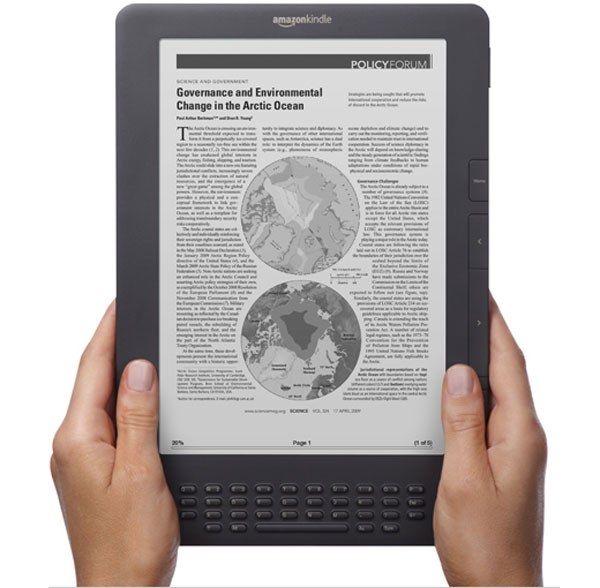 Overview of Amazon Kindle Ebook:
Amazon Kindle has 600 x 800 resolution in a 6" gray display. It weighs 10.3 ounces and measures 4.9 x 7.5 x 0.7 inches. It has an internal storage of 256 MB, and for added storage, it also has a SD memory card slot, an AC power and replaceable, rechargeable battery. It offers 3.5mm stereo headphone jack plus a built-in speaker. It provides USB 2.0 connectivity.
Favorable Factors:
It offers options for you to choose from a tone of reading material. Its display is simple and has easy readability. Using cellular technology, wireless access can be obtained for direct downloading from its online bookstore.
Non-favorable Factors:
Night reading cannot be done due to the absence of backlight. Controls require some learning time. Color photos are not at their best due to the black and white screen.
Verdict on Amazon Kindle Ebook Reader:
For basic ebook reading, Amazon Kindle is a great choice and has 4.5 star rating. Impossibility of night reading due to no backlight and inability to view color photos are its downsides. Yet, its ability to hold plenty of reading content and options to choose from them, easy text readability along with its wireless access through cellular technology for downloading content without a computer makes it an exciting choice.