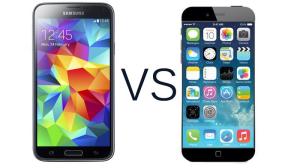 Recent years have seen a tremendous change in the mobile industry and with the introduction of the "smartphone" first released in 1995 with AT&T's "Phonewriter™Communicator" but gaining a huge success rate and countrywide adoptions in around 2010. Mobile manufacture giants like HTC, Motorola, Samsung, Sony, Apple, Blackberry OS and Microsoft-Nokia, all dominate the market to some extent or another. Amongst so many smartphones, which to buy? Now, personally if you have a big budget and want the best out there, the best would be to go for flagship phones – The iPhone 6 or the Samsung Galaxy S5, you can also look at HTC's One M8 or Motorola's Moto X. But for now, let's consider the 6 and S5.
Quick Facts About the iPhone 6 VS Galaxy S5
So, how do these two flagship giants, stack up against each other? Interestingly there has been a release of an S5 mini for people who don't like the big size of the phone. Contrary to the iPhone 6+, a bigger version of the iPhone 6, for people who actually want a bigger Apple. In a bit, you will be seeing some advantages and disadvantages around the two devices.
Samsung Galaxy S5:
Some of the featuers of the this phone, is stated below:
The Galaxy S5 comes with a body of dimension 142×72.5×8.1mm
Consists of a full IP67 certified water and dust resistance body, the water resistance is upto 1 metre depth and for 30 minutes
The inside is a powerful Snapdragon 801 chipset and an Adreno 330 GPU , and a Quad-Core 2.5 Ghz CPU to be run by a 2GB RAM
The operating system inside it is the Kitkat v4.4.2, though has a fixed storage of 16GB but that can be expanded upto another additional 128GB if the user chooses
Other sensors packed into this device are a gyrometer, accelerometer, compass, barometer, gesture, and heart rate monitor
It also has a superior camera of 16 Mp and a front "selfie" camera of 2 Mp
The battery life on the S5 is a superior Li-ion 2800 mAh battery that can give 390h, on standby
The drawback of the Samsung Galaxy S5 is that it doesn't have a radio.
iPhone 6:
After Jobs' passing, this was the newest product released by Apple, around September, this year. A few of the specifications are as follows:
The screen comes with the dimensions 138x67x6.9mm
A number of people have done extensive tests on this phone's resistance and it fared quite well
The iPhone uses its own Apple A8 processor, and is run by a 1.8 GHz Cyclone CPU to be run by a 1GB RAM
The operating system inside it is the iOS 8
The iPhone comes in different versions of storage: 16GB/64GB/128GB
Other additional sensors include accelerometer, gyrometer, proximity, compass and barometers
The camera on it is 8Mp and a front-facing camera of 1.2Mp
The battery used is an Li-ion 1810 mAh non-removable battery, that provides a standby time of 50h
The iPhone does have notable drawbacks: similar to Samsung, it doesn't have a radio. However, customers who have used both the phones are reported to have said that iPhone is more durable, when compared to the S5
Pricing and Refund:
Both the S5 and iPhone 6 are their respective company's flagship phones, both hitting the markets on 2014. Naturally they come with a hefty price tag. You can get the Samsung S5 for around $700, and still hope to get a discount, while the iPhone 6 will probably cost you around $800.
For the iPhone you'd can buy a warranty and an insurance policy to extend from the standard a1-yearly to a 2-yearly basis, which will allow you to take your phone in at their customer care, for any unintentional damage. Samsung too offers free warranty options, but they might not be useable after a year after purchase.

How Do Customers Feel About these Flagships?
For both of these phones the reviews and feedback are mostly positive. Users have always loved the powerful Galaxy S5, with the features it provides along with the apps and games supplied by Google Play. On the other end, iPhone users have no complaints on the smooth interface of the iPhone 6. Moreover, users love how the interface is so much easier to use and get to know well.
Conclusion on the S5 and iPhone 6:
This is a difficult verdict to give. Each smartphone is beautiful on its own, with the S5's array of black, gold, blue and white colors, and the iPhone 6's array of space-gray, silver and gold colors. But if you were to choose a set and needed a definite verdict, the iPhone could be your pick. Users who are solely looking for a big array of functions, could choose the Samsung S5. However, if you want a smartphone that is easy to use, runs smoothly, and will do just as you ask it to, then the iPhone 6 would be the smarter choice.