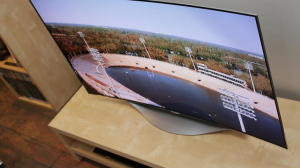 3D TVs have sure gained a lot of hype during the recent years. It is a feature available on some TVs and has achieved market dominance. It is just one among the various options available on a TV, and any 3D TV is capable of displaying regular 2D TV images too. One such new 3D TV available on the market is LG 55EC9300 OLED TV which is one of the best 3D TVs you can find.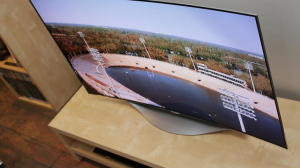 TECHNOLOGY:
LG 55EC9300 OLED TV has 1080p picture quality and utilizes LG Cinema 3D technology which results in the best in home entertainment.
It supports Passive Polarized Glasses that are less expensive and comfortable to be worn. 4 sets of such glasses are provided. These glasses are inexpensive, lightweight, flicker-free and also battery-free, thereby no worries about recharging them.
To support 3D, real time 3D conversion for 2D sources is offered in LG 55EC9300 OLED TV. You can also convert from 3D to 2D.
Two-player split screen games on the full screen can be achieved with LG 55EC9300 OLED TV. It uses LG's Dual Play technology for two-player split screen gaming on the same television on the full screen. Each player will be able to see his unique point-of-view in 2D and also across the full screen of his television without being able to see that of his opponent. He will have to wear the special glasses that are battery-free and light weight. In order to enjoy Dual Play, 2 pairs of special glasses F400DP have to be purchased separately. It is also required to purchase two player compatible games.
OTHER IMPRESSIVE FEATURES:
Pencil-thin 55-inch curved screen.
Deep black levels that are in comparison to the best Plasma TVs.
Summary of LG 55EC9300 OLED TV:
The new 55EC9300 OLED TV from LG has a price point of about $3,500. Though it is only a 55-inch TV with 1080p and a curved screen, it is pretty expensive. Yet, it is an OLED TV and is striving to reduce the price to a level of affordability. OLED (Organic Light Emitting Diode) is an outcome of LCD technology in which organic compounds are utilized for the creation of images, devoid of the need for extra backlighting. Consequently, display screens that are very thin and much thinner in comparison to LCD and Plasma screens can be achieved due to OLED technology.
To add to it, it is also a Smart TV with LG's WebOS. You will be able to access Netflix and other services, perform web browsing and can also access your content stored on DLNA compatible devices on your home network by using the Ethernet port that is included with it or with the help of built-in Wifi.
With the help of WiDi, you can perform wireless streaming from compatible WiDi-equipped laptops or Ultrabooks. Using LG's Magic Remote provided with the set, you can control all the features and functions of the 55EC9300.
The Verdict on LG 55EC9300 OLED TV:
LG 55EC9300 OLED TV has been rated at 3.5 stars. The picture quality of an LG 55EC9300 OLED TV exceeds that of a plasma or LCD TV. Its 1080p resolution is ample for a 55-inch screen. It also has good looks with its curved shape. But the downside is that, even though it is an affordable choice among OLED TVs, it is still expensive for a 55-inch television. It is yet to catch up with the other best TVs in terms of color accuracy and video processing ability. The bottom line is that it fulfils the expectations in an OLED TV due to its fantastic picture quality.