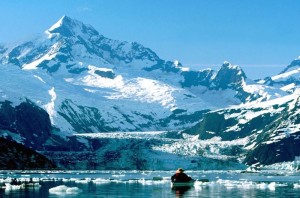 About Majestic Alaska
The majestic Alaska tour includes seeing Alaskan wilderness, national parks, and Alaskan towns and cities. Sightseeing highlights to view the beautiful Alaskan landscape include: A cruise in a paddlewheel boat to the Kanai Fjords National park. A train journey through the wilderness allows travelers to partake in the gorgeous scenery. Additionally, guests can expect to enjoy the Denali National Park. Through these guided hikes, train journey, and paddle boat cruise guests can see the full range of natural Alaskan beauty.
Trips to Fairbanks, Anchorage, and Seward allow for historical and cultural journeys. With structured activities designed for you to experience local culture such as attending a workshop where Alaskan birch bowls are made, or visiting the Kennels of the late Iditarod champion Susan Butche. In the towns and villages opportunities to interact with persons abound.
Optional excursions are available and can be paid for either in advance or while on the trip itself. These day trips vary depending on the season, and the tour director will have additional information and offer to answer any questions. You can also call prior to booking the trip to discuss options with a travel agent.
Included with your trip are seven breakfasts, three dinners, and two lunches. Included in your trip when you book through a tour agency are other accommodations that one does not get when traveling alone. These perks include audio headsets to enhance sightseeing, and hotel service charges, tips, and fees, so you don't have to worry or have additional stress about those details. In addition to the structured time, there is independent leisure time built into the itinerary allowing for you to explore the towns or wilderness on your own or book additional excursions.
How Majestic Alaska Works
Majestic Alaska tours include accommodations and transportation in a luxury coach between excursions and stops. The travel director is available for assistance with an additional sightseeing request, or to help in situations such as illness or injury. Because a travel director is available the stress of checking into new hotels, or making arrangements is alleviated allowing you to enjoy a vacation. Some meals and sightseeing trips are included with the prices as are, first-class accommodations.
Majestic Alaska Pricing and Refund Policy
Prices for the Majestic Alaska tour vary depending on the dates you wish to book a trip, and optional excursions booked. The cheapest price per person from Trafalgar excluding air fare to and you're your home is: 4,337.00. You can search the internet for deals and sales through other agencies. Currently, when completing a search using google I was able to find the tour offered for as low as $2,750.00.
Refunds are not issued if your become sick or miss your flight therefore it is important to be ready to go and arrive for your flights early to ensure you can enjoy the trip. As always with booking a trip travel insurance is suggested.
Bottom Line:
Majestic Alaska tours are a way to visit Alaska with an established itinerary. Searching the internet will provide you with the lowest possible price, and this is a dependable way to vacation without stress. The excursions included in the Majestic Alaska trip are focused on allowing travelers to experience the beauty of the Alaskan wilderness.
Please share your experience with us below in the comments.
Majestic Alaska Sightseeing Tour Review