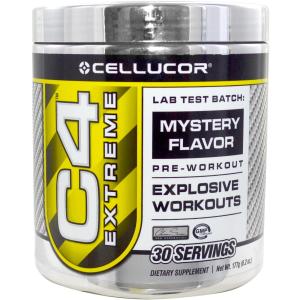 C4 Extreme is a powder formula made by Cellucor. This supplement is advertised as a pre-workout intensifier. The purpose of this product is to amplify energy levels for working out, improve focus and clarity, and encourage intense muscle pumps. This product is suitable for women and men, ages 18 and older. One scoop is a serving, and it is added to 4-6 ounces of water, and then consumed 20-30 minutes prior to working out.
This powder is available in the following flavors: fruit punch, green apple, mojito, icy blue razz, orange, pineapple, pink lemonade, strawberry margarita, watermelon, orange dreamsicle, mystery, berry bomb, and sweet tea. While this supplement can be acquired through the official website, online dealers and supplement stores also sell C4 Extreme.
The Features and Benefits of C4 Extreme
This pre-workout supplement contains Vitamin C (250mg), Vitamin B12 (35mcg), Folic Acid (250mcg), Calcium (22mg), and Niacin (30mg) to help nourish the body. As for the active ingredients, they include Caffeine Anhydrous, N-Acetyl-L-Tyrosine, Bitter Orange, Mucuna Pruriens, Beta Alanine (1,500mg), Arginine AKG (1,000mg), and Creatine Nitrate (1,000mg). C4 Extreme uses a Rapid Absorption System, so it should take effect quickly. It also contains NO3 Pump Technology, which is supposed to aid with serious muscle pumps.
How C4 Extreme Works
Several ingredients are used in C4 Extreme powder to potentially elevate energy levels, and increase muscle building ability. Vitamin B12 increases cellular metabolism and boosts endurance levels. Caffeine Anhydrous also increases energy, while improving alertness. Folic Acid improves mood, and Niacin minimizes muscle fatigue. N-Acetyl-L-Tyrosine promotes the release of human growth hormones, which results in more energy and improved focus. Mucuna Pruriens is added to amplify energy levels and increase the metabolism. The Bitter Orange found in C4 Extreme contains Synephrine, which can help elevate thermogenesis.
Pros of C4 Extreme
Plenty of customer reviews are found on the main website.
C4 Extreme contains some vitamins and minerals.
13 different flavors of this powder are available.
A 100% money-back guarantee is provided on the company website.
Cons of C4 Extreme
The Bitter Orange in this supplement contains Synephrine, which may lead to side effects.
It is unclear how much caffeine is used in C4 Extreme (caffeine can cause side effects).
Some users complained of side effects like tunnel vision and dizziness.
C4 Extreme Price
This supplement is available in three different sizes, which include 60 servings ($59.99), 30 servings ($39.99), and 5 services ($7.99).
The Return Policy and Guarantee for C4 Extreme
A 100 percent money-back guarantee is posted on the company website, and this is good for 30 days.
About Company
Cellucor is a supplement brand that is owned by Nutrabolt, which is a nutritional life sciences company. It is located in Bryan, Texas, and has been in business since 2002. This company claims to offer excellent workout supplements and muscle-building products, as well as great customer service.