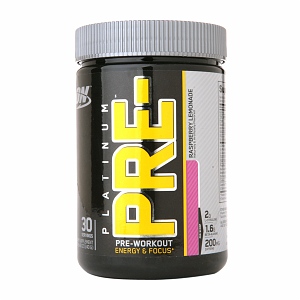 Platinum Pre is a powder formula that is boasted as a high-quality pre-workout supplement. It is made by Optimum Nutrition, and can be acquired via the company website, as well as dealer websites and supplements stores. This supplement aims to improve the intensity of workouts by dramatically increasing focus and energy levels. It is available in three flavors, which include fruit punch, raspberry lemonade, and superfruit.
In order to use Platinum Pre, one scoop of powder is added to 6-10 ounces of water, and consumed before a workout. This supplement should never be used more than twice a day. Furthermore, those taking medications should not use Platinum Pre. This workout supplement is primarily for healthy individuals between the ages of 18 and 50.
The Features and Benefits of Platinum Pre
Platinum Pre contains several ingredients, which include Capsimax (125mg), Caffeine (200mg), L-Citrulline (2g), CarnoSyn Beta-Alanine (1.6g), DMAE Bitartrate (250mg), and a Phytoblend, which includes 250 milligrams of beet juice, grape seed extract, MegaNatural red wine grape extract, and citrus bioflavonoids. This formula may help improve workout intensity, which can result in fat loss and increased muscle mass.
How Platinum Pre Works
The Phytoblend used in Platinum Pre provides serious antioxidants to help fight damaging free radicals and assist with workouts. Capsicum Fruit Extract is used in this powder to increase metabolic activity. Caffeine is a stimulant added to heighten energy levels, improve alertness, and improve overall performance. Carnosyn Beta-Alanine is incorporated to support longer and more intense workouts. L-Citrulline is added to elevate performance. It is a precursor to Nitric Oxide.
Pros of Platinum Pre
This supplement may help elevate energy levels to improve workouts.
The company that makes this product has been around since 1986.
Platinum Pre is easy to come by in stores like GNC and Vitamin Shoppe.
This product contains antioxidants to aid with overall health.
Cons of Platinum Pre
You cannot consume caffeine within so many hours of using this supplement.
A 100% refund guarantee is not offered on the official website.
Some users complained of diarrhea and hives from Platinum Pre.
The significant amount of caffeine in this powder may lead to side effects like jitteriness, fast heartbeat, anxiousness, insomnia, and headaches.
Platinum Pre Price of Platinum Pre
This powder supplement is available in three different sizes, which include 30 servings ($30.99), 14 servings ($15.99), and 6 servings ($7.99).
The Return Policy and Guarantee for Platinum Pre
There is no 100 percent refund guarantee on the company website, but there is a 30-day return policy (for supplements, at least 75% of product must be unused). However, some retailers and supplement dealers may offer their own return policy or money-back guarantee.
About Company
Optimum Nutrition Inc. was founded in 1986, and focuses on creating "quality" sports nutrition supplements. These products are sold all over the US, and can be purchased in nearly 10,000 different gyms, stores, and supplement retailers. 70 other countries also distribute Optimum Nutrition p