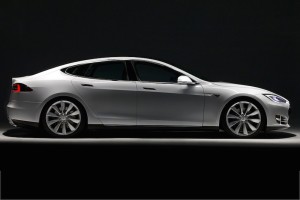 Tesla defies the latest of technology when it unveiled its latest Model S P85D. This high performance battery-powered full-electric supercar has captured the fascination of many with its awesome features, remarkable performance and sophisticated style. With dual motors, an all-wheel drive and 691 horse power, this beast can run from 0 to 60 in 3.2 seconds. That makes it faster than a Porsche Panamera Turbo S. At 11.8 seconds, the car can hit its quarter mile mark with a hard hum. The battery is supercharging ready and can run up to 253 miles.
Dual Motors
Model S P85D was specially designed with dual motors that have an overall 691 hp motor power, 221 hp at the front and 470 hp at the rear axles. The dual motor system is an extraordinary upgrade from the traditional all wheel drive system. This gives the all wheel drive exceptional power and acceleration that can make it 0 to 60 in 3.2 seconds and can give it a top speed of 155 mph.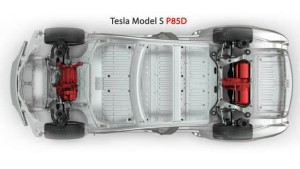 Auto-pilot
The auto-pilot feature of Model S P85D is hard to miss and is probably the fanciest attribute of this super car. Model S P85D already comes with a camera and 360 degree sonar sensor technology and gets real time traffic updates which allow the car to automatically drive in heavy traffic or open roads. In the future, one tap of the turn signal can make the car change lanes. Safety equipment and high definition sensors monitor and detect traffic signals, stop signs, pedestrians and sudden objects that may cross its path. Model S P85D is hyperaware of its surroundings and can bring itself to a full stop in the event of an emergency or sudden lane changes.
The auto-pilot feature also has calendar synching which can determine how much time is needed to get to a specific scheduled destination. It can eventually even automatically pull out of your garage and fetch you at your front door.
Safety
Tesla Model S has the highest safety rating in America and is tested and approved by the National Highway Traffic Safety Administration (NHTSA). The electric drivetrain is positioned beneath the car's aluminium which lowers its center of gravity and minimizes toppling or rolling risks. In the event of an emergency, the supercar can bring itself to a full stop and the battery system will automatically detach from the power source, preventing any battery leakage or sparks. Eight airbags in the front and rear can completely encapsulate and protect its occupants.
Style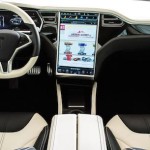 Tesla Model S P85D offers many styles and features that does not just pass sophistication but more so of defines it.
It has a smooth and seamless exterior surface. The door handle is retracted into the body and will automatically pop up when the key is in proximity. The charging dock is invisible and will automatically light up only when approached near the dock with a charging connector.
Model S boasts of a 17-inch touch screen that is angled facing the driver and uses mobile or WiFi network connectivity to allow you to search for your destination, new places and your favorite song. It can also work with a mobile app remote control.
Seamless surface of the interior that uses only the most exquisite materials to give the supercar a sophisticated and luxurious overall look.
All these facilities and awesome features are attainable at an astounding $120,000. A high speed, high performance, high featured car is at your fingertips it is the #1 Fastest Car Under 150k. For Tesla Motors, the future