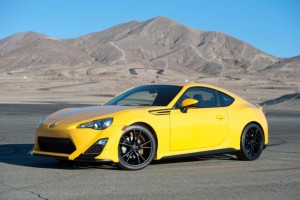 I highly recommend the Scion FR-S to young adults looking for an awesome car, while keeping the damage to their pocket minimal. The Scion FR-S can be purchased brand new for roughly 26k. The used car market already has awesome examples for as lowest 18k. That's great news.
Why is this Scion awesome? Well, it's firstly a small two door coupe. It looks great and handles amazingly. Your friends will be jealous! The Fr-s is extremely fun to drive even on the street. You don't need to hit the canyon roads or race track to extract fun out of this car. The handling characteristics of the Fr-s have been compared to the great Porsche Cayman. If you know about cars, then you know that the cayman is elite in terms of handling. What makes the handing on this little Fr-s so great is its low center of gravity. This was achieved by using a Subaru flat four engine. If you don't know Subaru, all you need to know is that their engines are known for having low centers of gravity much like the epic Porsche engines. In addition, they  mounted the engine as low as possible to achieve a balance that is only rivaled by cars triple the price range. The Fr-s is also at a weight class that not many manufactures have been able to match in the low price/ sport car genre since the 90's. Because of the light weight, the 200 hp engine is able to get the Fr-s moving quickly.
In a day and age where companies race to the bottom (in prices), Scion has managed to steer clear of that trend. Instead of installing a cheap suspension design like many of the cars in its price range. Scion has fitted the Fr-s with a great suspension design. The suspension includes a McPherson strut design up front and a multi-link rear suspension design. A design like this allows for the suspension to be tuned independently in all for corners. You may ask, how good is the front suspension design? Well, Porsche and BMW use a similar design in their vehicles.
Since this car is for a young adult who isn't looking for a Porsche, the interior is definitely lacking for many. It's simple but gets the job done. The materials used aren't that appealing but then again keep in mind that it's a Scion. The seats do a good job of hugging you, which is a good thing for a sporty car. If you plan to lug around friends, get ready to be slightly disappointment. The back seat is really small. An averaged sized adult will have tight fit. A large adult…good luck.
All in all the Fr-s is a great car at its price point. It truly is refreshing to see a big time manufacturer take it back to basics and build a car that is affordable but delivers a high price fun.