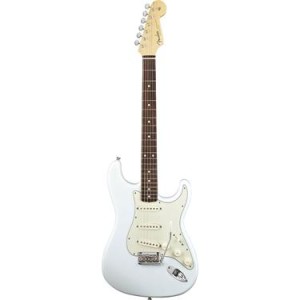 Greetings fellow slashers, thrashers, shredders, and lick-masters! As you know, searching for your first- or next- guitar is important. It's an investment, and you've got to be able to justify the money spent. No problem. Thanks to the guitar masters at Fender, players still have much to look forward to. Check out the info on the hot new Fender Classic Player '60s Stratocaster:
·       Maple neck with "C" profile for a vintage-style feel
·       21 medium jumbo frets
·       Three custom '69 single-coil Stratocaster pickups
·       Tremolo Bridge to help stay in tune longer
·       Vintage-style tuners
As per any great Fender Custom guitar, this particular beauty was designed by Master Builder Greg Fessler– setting the precedence for the cohesion of a classic look with modern technology. Remember, if you're looking for a new guitar you'll want to consider several things:
What is the range of tones?
What type of woods are used in its design?
How does it feel when you play it?
How much does it cost?
If the player is looking for the warmth and punchy tone of the late 60's, then this is definitely the guitar he or she should be wielding- particularly crucial for the sound the guitarist wants to create. The Classic Player also replicates the look and feel of the bridge typically used by Fender in that era, yet modernizes it with a two-point synchronized tremolo bridge. This is especially important when you are looking to bend notes a lot while staying in tune. Further, the neck is designed with the vintage "C" profile- vital to ease of use and a more comfortable performance.
Speaking of performance, the Fender Classic Player '60s Stratocaster is a wise choice for the performer of any skill or venue. For the novice, it sounds crisp and pure- resonating throughout your garage, the local coffeehouse, or even the backyard bbq. Scratch that. Especially the backyard bbq. This thing is a monster. For the more experienced player, you will find that the Player is closely comparable to the Gibson Les Paul '60s Tribute Min-ETune Electric Guitar in price and in feel. Although the tones are quite different, both will give you the satisfaction you're looking for in your gig guitar. The Gibson is a bit cleaner and more open in tone, while the Fender is vibrant and raw. It just depends on what you're looking for overall.
Luckily, the Fender Classic Player '60s Stratocaster can be found virtually anywhere. It generally retails for $799 no matter where you look. Some typical shops might include Guitar Center and Musician's Friend- however, Fender will gladly sell you the guitar directly. It's an amazing feeling to plug this guitar in and turn it way up- especially for the novice looking to learn how to play like the greats. This guitar comes highly recommended by all who have tried it, and $799 is actually not bad at all- not to mention it looks like a million bucks. Your friends will be impressed, and you will not regret adding this well-deserved treat to your collection. Long story short? Definitely worth it. Here's the link directly to Fender for more info and to purchase: