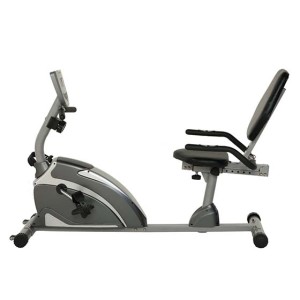 You're probably looking for a simple stationary exercise bike to start or complete your home gym, or just need to get in some time on the pedals without getting rained out or heated up by the changing seasons on a normal bicycle.
The Exerpeutic 900XL is our pick for a utilitarian budget bike that will do what you want it to do without doing a ton of junk that you don't care about, at a reasonable price.
Out of the box and on the floor, the bike is a little cumbersome, and wherever you put it, it will probably stay there. It was not designed to fold up or store easily, so it helps to be serious about where you're putting your home gym space- The good news is, this monster will never fall apart. The instructions are simple, easy to follow, and the entire bike is very stable on the floor and the electronics are rather brainless and easy to wire up, requiring no tools. Even if you jam on the pedals or hammer the buttons, it won't give up on you.
The resistance adjusts with a knob on the top, and screwed in pegs adjust the seat. The bike has caster wheels on the rear, so while it doesn't fold up or fit in a closet, you can tip it up on the wheels and push it into a corner.
This bike was chosen because it had the best intersection of value and utility, without having any of the goofy bells and whistles you probably won't use anyway. The bike's computer can record minutes or miles, logs heart rate and calories burned, and does very little else. You can cycle through the computer's entire program with a few button pushes. You are not paying extra for a bunch of copper wires and LCD displays you'll never use. If your intent is to hop on it and pedal until you sweat, this bike will give you what you need without selling you a bunch of other junk you'll just leave in the box. It is a very decent utilitarian tool in a market cluttered with cheap junk and gimmicky electronics.
You can check it out here: