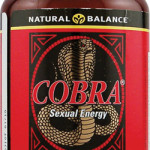 In  today's Cobra Sexual Energy Review, I will be referencing what the product's website claims  is a great performance enhancer which works as virility booster. This increases blood flow and improves sexual experience which works for men of all ages. Taking two capsules of this vegetarian package in the afternoon and one or two capsules an hour before a sexual activity is the suggested standard usage.
Main Ingredients in Cobra Sexual Energy
The main ingredients present in Cobra Sexual Energy are: Yohimbe, Horny Goat Weed, Muira Puama, Korean Ginseng, and Saw Palmetto, Kola Nut, Oatstraw, Nettles, Siberian Ginseng, and Catuaba.
Yohimbe is a legendary herb native to Africa which is best known for increasing blood flow, specifically in the sex organs. The same ingredient is used for known impotence drugs.
Horny Goat Weed is a testosterone-boosting herb native to Chinese gardens which increases sensuality and intensifies sexual desire.
Muira Puama is a high potency wood native among Brazilians and is most famous for its stimulating performance essential for increasing male libido.
Korean Ginseng is the other name for Panax Ginseng is an award winning herbal root known to promote energy and improved sexual endurance.
Saw Palmetto is a medicinal plant from North America which has long been proven by proponents to support prostate health. The same ingredient is good for stress resistance.
Kola Nut, Oatstraw, Nettles, Siberian Ginseng, and Catuaba are also known herbs all working together to crank up stamina and maintain sexual energy especially while engaged in sex.
Amazon Reviews 
In reference to Amazon Reviews, this product has good reviews from some customers but some are a bit worried as this seems to have just circulated the market. This was observed to have (3/5) rating from customers who, so far, purchased the product from Amazon.
Where to Purchase Cobra Sexual Energy
Cobra Sexual Energy may be purchased from select drugstores and online website amazon.com. We found it for $14.60 Selling Price from the regular $39.13 for a month supply. This is an unusual offer which will likely not happen again thereafter.
Product Concerns
There are a few things you have to consider when using Cobra Sexual Energy. The main issue is the contraindication for users with pre-existing liver and kidney disorders. This is as well not recommended for customers with hypertension and other heart conditions.
Effectiveness of Cobra Sexual Energy Supplement
Overview
In general, Cobra Sexual Energy is totally natural and herbs-based. This is a good combination of special herbs which originates from varied soils. This is packaged to enhance stamina and sexual vitality which is important among male, especially for those who have issues about maintaining sexual energy and endurance all throughout the sexual activity, and even onwards. This is a health supplement and is not intended to cure or treat diagnosis