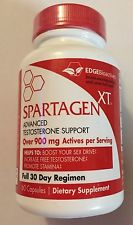 SPARTAGEN XT REVIEW
Intro
Today, I will be writing a Spartagen XT review. Spartagen XT is a product designed to boost your body's levels of Testosterone.Spartagen XT is available for sale through a number of review sites online. Simply search the product name on Google and take your pick from the entire page of reviews. Currently, Spartagen XT is registered as Out of Stock on Amazon.com.Spartagen XT boosts your body's testosterone with a grand concoction of ingredients including Tongkat Ali, Tribulus Terrestris, and Zinc.Specifics as to how to take the supplement are hard to find. However, one bottle contains 60 capsules, which is advertised as a Full 30 Day Regimen. It can be assumed EDGEBioactives recommends two capsules per day.
Features & Benefits
An overwhelming amount of online sites dedicated solely to reviewing the supplement explain you can expect more energy, increased libido, harder erections, and more confidence. According to Spartagenxt.org (not to be confused with an official site), the combination of ingredients is called the Proprietary Testosterone Activation Stack. In addition, a combination of Ginseng, Maca, and root extract make up the Proprietary Sex Drive Amplification Matrix.
How it Works
The various combinations of vitamins and herbs  are purported to provide your body with nutrients that will promote hormone production while also assisting with cardiovascular health and nerve cell communication. However, there was not much scientific literature to support the claims made on the various online review sites
Pros
An abundance of vitamins and herbal extracts

No Gluten

No Testofen
Cons
No scientific research published on the product

Confusing and sometimes contradictory information published by independent reviewers

Could not get any information whatsoever regarding the supplement manufacturer, EDGEBioactives
Price
Spartagen XT prices may vary. Currently, the product is listed as unavailable on Amazon and a price is not shown. Attempts to purchase elsewhere were met with excessive popups that derailed from the purchasing process.
Return & Refund Policy
After plenty of research, we were unable to find any sort of Return or Refund policy.
Company Reputation
2.5/10
Pros
Vitamin and herbal extract ingredients
No gluten
No testofen
Cons
No scientific research published on the product
Confusing and sometimes contradictory information published by independent reviewers
Could not get any information whatsoever regarding the supplement manufacturer, EDGEBioactives