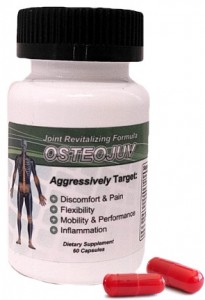 Osteojuv for Joint pain?
What is Osteojuv and how does it help you?
Osteojuv is a new drug in the market exclusively meant for joint pain caused by arthritis, inflammation, and also for joint pain caused due to physical activities. Manufactured in the U.S, this product claims to give you relief from back pain and joint discomforts that accompany old age.
It contains Glucosamine and Chondroitin, two substances that repair cartilage damage and also help generate new cartilage to ward off future damage. Calcium in the formula helps to build strong bones while Gelatin is also a good cartilage building substance. Although this product contains the same found in other joint pain relief drugs, manufacturers claim that the right combination of the ingredients is what makes Osteojuv more effective.
Product Details
Osteojuv contains Glucosamine, Chondroitin, Calcium, Gelatin and Hylaluronic acid. Osteojuv is retailed at $64.99 and you can also buy them straight from the manufacturer's website. Each bottle contains 60 capsules. The company suggests 2 capsules to be consumed every morning for the duration of the bottle.
Company
Osteojuv is manufactured in Connecticut. The company manufactures this drug as per GMP regulations. Detailed information about the product is provided by the company on their website. The website also welcomes customers to take part in the Osteojuv Challenge. You get to try the product for a certain period of time, record the results and then can carry on ordering the product at a discounted cost.
Advantages:
Offers a 60 day money back guarantee
Available at discounted price
It is a natural supplement
Informative website
It contains Glucosamine and Chondroitin
Disadvantages:
A full ingredient list is not available
It is available only online
Long-term consumption may be required for better results
Expensive in comparison to competitors
Possible Side Effects:
Consult your physician and follow the recommended dosage. It should not be taken by pregnant and nursing women, also by those of you with an allergy to shellfish. Some of the side effects that Osteojuv might cause are:
Nausea
Vomiting
Headache
Dizziness
Upset stomach
Since Osteojuv contains the basic ingredients that are normally present in other joint products, it would be a good idea to give it a try. Even though it is comparatively expensive, the manufacturer provides a 30-day trial period where you will get an 80% discount on one bottle which gives you an affordable opportunity to check out the product for yourself.
Company Reputation
6.5/10
Pros
Discounted prices sometimes available
Informative website
Contains glucosamine and chondroitin
Cons
Full ingredient list unavailable
Available only online
Expensive
Long list of possible side effects
No 100% Money Back Guarantee