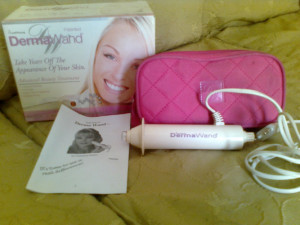 Magical skin with Derma Wand
With anti-aging being as important as it is for the beauty conscious, there are multiple products in the market that promise just that. Derma Wand is the product that offers you dermatological services at a fraction of the cost. A Derma Wand Kit contains a Derma Wand, an instruction booklet and a video guiding you about the use of the wand. A non-surgical device that stimulates your skin through low grade electric impulses, Derma Wand promises its users a relief from saggy, wrinkled and aged skin. Derma Wand reviews from its regular users show that the wand is quite efficient in reducing signs of ageing like enlarged pores, saggy and lifeless skin and in improving the vitality of the skin.
Tired and lifeless skin contributes to the ageing effect and with regular usage of Derma Wand, the effects of ageing can be reversed. The deep wrinkles can be smoothed out, under eye sagging skin can be perked up and puffiness in the cheeks can be reduced. Derma Wand reviews show that users report increased circulation and smoothness of the skin after a single use and prolonged use is associated with improved looks. At $105 – $140 per kit, depending on the general taxes and shipping charges, the device offers inexpensive alternative to the dermatologist visits with an overall healthier skin that looks young and smooth.
Positives
The Derma Wand portable kit offers thermal skin massage at about 168,000 cycles per second that has an instantly refreshing effect. Designed by Christina Boves, who is herself a long term user of the product, Derma Wand can be tried free for the first thirty days. The brand offers a 100% money back guarantee in case the product is found to be ineffective. The product can be  ordered directly from the brand's website and most long term users of Derma Wand swear by the positive effect the wand has had on their skin.
Negatives
On the flip side, the mild electric impulses that form the basis of Derma Wand positive reviews are not suitable or advisable for all skins. People with especially sensitive skin need to use this product under medical supervision. Since none of the ingredients for the creams to be applied before and after each usage are mentioned, their effectiveness cannot be tested. The Derma Wand has to be used with the proprietary anti-ageing creams for the product to work well so recurring hidden costs can make the product more expensive than it seems. If you have used Derma Wand, let us know about your experience and concerns, if any.
Pros
Good customer reviews
Less expensive than visiting the dermatologist
100% Money Back Guarantee
Cons
Doesn't work for all skin types.
Unverfiable Results
Only effective if used with propriety-blend aging creams.