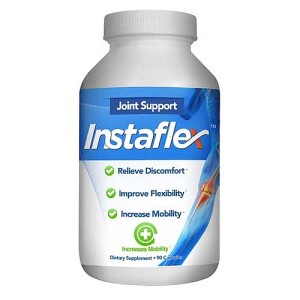 Instaflex Review
Instaflex is a supplement that helps with joint pain relief as well as helping to reduce stiffness and improve flexibility of the joints. With a celebrity sportsperson endorsing Instaflex, many people are bound to be attracted to it. But does it live up to its name, or is it just another overhyped product?
Instaflex ingredients:
There are 8 active ingredients in Instaflex, and all of them are fairly standard for most joint pain supplements. The exact amounts of each ingredients are shown in the Instaflex website.
Glucosamine – responsible for building and repairing tendons, ligaments, and cartilage.
Turmeric Root,
White Willow Bark – reduces pain, known as naturally occurring aspirin.
MSM,
Ginger Root,
Cayenne – it eases the side effects of osteoarthritis and other joint complications.
Boswellia Serrata,
Hyaluronic acid
The exact purpose of each ingredients are not explained much in detail. Glucosamine is mainly combined with Chondroitin, as they tend to work better when paired together. Instaflex, however, combines Glucosamine with turmeric powder – which is a great anti-inflammatory agent. The Glucosamine in Instaflex is derived from shellfish and hence people with allergies cannot use it. The ingredients used in Instaflex are also not suitable for people with heart diseases and pregnant woman. Some mild side effects (nausea, heartburn, and diarrhoea) are also reported by some customers of Instaflex.
Instaflex is available for a 14 day free trial, but by doing so they are automatically enrolled in the company's auto shipping program. Many customers feel the 14 day period is too short a period to correctly evaluate the product, since no positive results could be felt in the trial period. Since none of the clinical results of Instaflex are made public, that remains a point of concern for many. But, Instaflex is primarily made out of natural ingredients, so it is unlikely to cause any harmful side effects.
Instaflex is quite pricey than other joint pain relief supplements, so it is out of the option if you are on a budget. Instaflex is offered at a cost of $69.99 per bottle and it has a 30-day money back guarantee. If money is not a factor, you can always try out Instaflex to cure your joint pains. The customer feedback is mixed but the website is filled with positive reviews.
Company Reputation
7.7/10
Pros
30 Day Money Back Guarantee
14 Day Free Trial
All-Natural
8+ Active Ingredients
Cons
Automatic enrollment in auto-shipping
Expensive
Clinical results not available to the public
Annoying side effects a possiblity