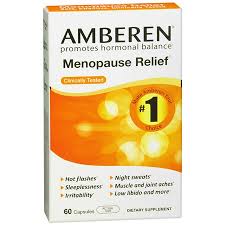 Amberen Review – Does it really provide relief from menopause?
Amberen is one of the most marketed drugs for menopausal relief. According to the company that produces and markets Amberen, Lunada Biomedical, it works on the premise that by restoring the body's internal systems, one can treat menopausal symptoms. Amberen works by maintaining the hormonal balance in the body, which gets disrupted during menopause.
Natural menopausal supplements have become popular among women recently due to the side effects of Hormone replacement therapy. Amberen is one of those menopausal supplements that have become popular in a very short time as it promises a side effect free natural way to reduce the symptoms of menopause.
Amberen Ingredients:
According to the Amberen website, the ingredients of the "proprietary blend" are NOT disclosed but the other ingredients listed include the following::
Ammonium Succinate: regulates the endocrine system to help normalize hormone production in the body.
Tocopherol Acetate: helps in normal hormone production in the body.
Calcium Disuccinate: helps prevent osteoporosis which is a common issue experienced by menopausal women.
Monosodium L-Glutamate: helps improve the performance of mitochondrial-benzodiazepine receptors in the body's peripheral tissues to stabilize energy status.
Magnesium Disuccinate Hydrate: helpful in relieving PMS symptoms.
Glycine: helps in the normalization of psycho-emotional balance which is a common problem of menopausal women
Zinc Difumarate Hydrate: It works in normalizing fat and carbohydrate metabolism to address weight gain which is one of the most common and problematic symptoms of menopause.
Apart from MSG, all other ingredients are completely harmless. MSG has been shown to trigger side effects such as headaches, sweating and more seriously heart palpitations and chest pain. Thus, if you are under heart medication or have hypertension, it is best to stay away from Amberen.
One thing to keep in mind is that Amberen is not a weight loss drug. The manufacturers of Amberen claim you can get "guaranteed relief" from the symptoms experience by women approaching or suffering from menopause. But the customer reviews of Amberen is mixed. Some of the customers have said that it has only helped reduce the symptoms and not completely eliminated them. With price on the higher side, Amberen is not for the budget conscious woman. There are several budget friendly menopausal supplements available in the market. Even though Amberen comes with a money-back guarantee, it is not a testament to its effectiveness and safety.