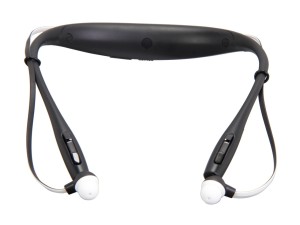 I cut the cord and it feels great! These are the best headphones I've ever owned.
I've never liked wearing the little white iPhone cords that get snagged on passers by on the subway and make it impossible to do yoga without nearly strangling myself on a spinal twist.
The Motorola Buds make everything better — and there aren't many things under $30 you can say that about.
I can stream music and take hands-free calls from my phone, and the phone calls even sound better! The buds capture nuances I've never picked up in conference calls before (like my grumpy boss muttering under his breath J)
They have a noise cancellation feature that makes long, cross-country flights way more pleasant. The contoured band gently rests on my neck, minimizing fatigue so the headset feels comfortable throughout the 6-hour flight. And the ear stems magically reposition themselves as I move or fall asleep.
Back at home, I can mow the lawn while streaming music from a tablet in the house or take a yoga class synced to an MP3 player in my bag. With the press of a button, I can effortlessly switch over to listen to my boss muttering under his breath.
Namaste. Buy these headphones.