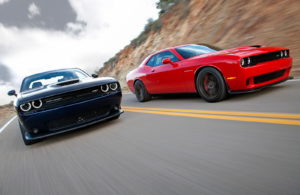 If you love sports cars, then the Dodge Challenger 2016 may be one of those that consistently top the list in most review sites that you have bumped into, so far. Briefly, this top-performing sports car comes with a large trunk, robust engines and elegant interiors. It is the sports car that can provide you with ample trunk and rear-seat space and potent engine. For this version, there are no major changes from previous models in the same Dodge Challenger category.
Performance.
When it comes to its base engine, it is a V6 combined with 8-speed auto transmission, giving you more power on the road. On the other hand, there are also other V8 engines in which each can provide good power, and the V8 models can also be equipped with a six-speed manual or automatic transmission. But then, the V6 model is also a decent choice because it earns about 19/30 mpg highway or city that is considered good in its category.
According to road testers, the Challenger is versatile, and it can handle most imperfections on the road that it gets. It can also handle curves with only minimal body roll, say experts. Nevertheless, this Dodge model is pretty impressive when it comes to giving drivers that assistance they need when it comes to driving under tough road conditions. The problem is that its weight and size might be the issue for making it less agile when compared to competitors.
Interior.
While the Challenger receives positive feedbacks from users saying that its interior is quite of good quality, some users complain that they can feel hard plastics. For the positive note, many people find the Challenger comfortable and supportive, special mention to the rear seats. Then, the trunk space is also sufficient for a sports car, but you have to lift your things high to get them there.
The interiors also features dual-zone automatic climate control, USB port, Bluetooth and six-speaker audio system that comes with a five-inch touch screen. Additionally, interiors come with navigation, HD radio, and rearview camera, rear parking sensors, adaptive cruise control and 18-speaker audio system. According to the experts, the control screen works so well in managing the infotainment functions and the 8.4 touch screen is easy to operate and superb.
On the other hand, the Ford Mustang, according to the experts can handle better than Dodge 2016. And then, when it comes to athletic handling and powerful acceleration, the Chevrolet Camaro may provide better value because it is can also be a convertible.
Conclusion
The Challenger is a strong choice when it comes to sports cars because it comes with an ample room for adults and it cannot be compared to rivals regarding customizable options that it offers. The Challenger can be a good choice when it comes to an enormous trunk and its touchscreen interface that is also easy to use and very functional. Overall, the Challenger is an impressive model that comes with excellent features to depend on if you're looking for a decent sports car that can serve your needs. Adults can fit well in the rear seat without feeling uncomfortable even in a long ride. It also comes with high-tech safety items, entertainment, comfort and convenience features.