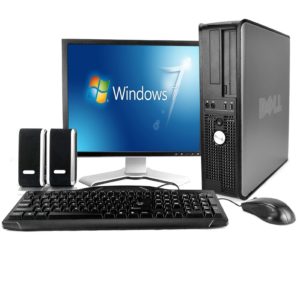 This DELL computer model is one of the flagships manufactured by Dell, a world-famous brand in the electronics industry. This certain computer package has been fully tested and the components are quality certified for effective performance. It comes with a brand new license of the freshly installed Windows operating system and it also includes a trial version of the latest Microsoft Office 365, which allows you to try all the newest version of Word, Excel, and PowerPoint for free.
Aside from that, a standard version of Office Suite is also already installed and you can get all these for a very affordable price. Nevertheless, you can shop around and look for the best deals on this package.
Benefits/Features
The computer's software consists of an Intel Core 2 Duo 2.0GHz Processor that is fast enough to handle all your computer needs. It also has an 80GB SATA Hard Drive and 2GB of DDR2 RAM that can be expanded for up to 8GB of internal memory. Storing files and watching multimedia content is also made easy with its 8 USB 2.0 ports and DVD-ROM Optical Drive. Right out of the box, you will get a 17" LCD monitor, mouse, keyboard, and all the necessary cables and power cords. Briefly, this computer package is perfect for home office use, personal use, or for students looking for a useful computer on a budget.
Pros
The entire package comes with a 1-year warranty on repair/replacement and the shipping is so fast and hassle-free, you'll be surprised to see it on your doorstep within a few days.
The overall condition of this desktop computer is great and everything runs smoothly without underlying errors. Unlike other computer packages out there, this one doesn't heat up after prolonged use and you can even run software on this overnight. The included keyboard, mouse, and speakers are also quite decent and the monitor screen doesn't have many scratches. And if you are looking for a good price, then this may also be a choice because it comes with almost everything you need to get started.
Cons
This computer might be a little slow when it comes to heavy-duty games but it doesn't necessarily mean that you can't play any games on it. The Wi-Fi adapter that comes with it might also be not fast enough so if you require higher connection speeds, you can always purchase a faster one.
Conclusion
Its affordable price might make you skeptical to purchase one but don't let it stop you, its superior quality and artisanship makes it an unbeatable deal. And if you can get past the minor issue on its cosmetics, you will realize that its performance is better than it looks. So if you have an old computer and would like to upgrade to a newer and more updated one, give it a try and it will be the best decision you'll make. Overall, this may be a decent choice for those looking for a functional computer that they can use for most purposes without breaking their bank. Check it out today!