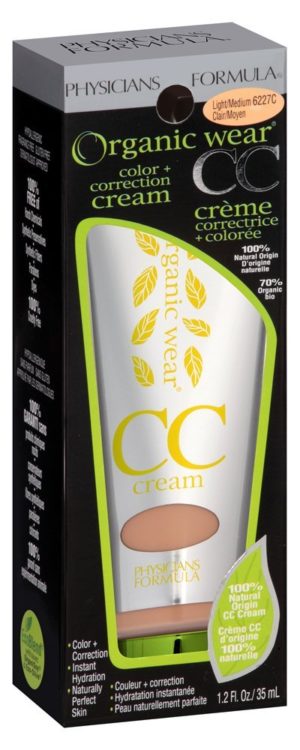 The Organic Wear 100% Natural Origin CC Cream is one of the latest multitasking products introduced by Physicians Formula, the makers of other highly successful beauty products in the market. It comes in the shade Light/Medium and one tube contains 1.2 ounces of fluid, so for the price of $8.54, it's definitely a steal. The best part is that this is one of the few CC Creams out there that are environment-friendly because it is 100% natural and 70% organic. It is widely available online so getting your hands on one is as easy as the click of a button.
Benefits/Features
This CC Cream boasts of its color-correction properties and skin nourishing benefits with its unique blend of organic and natural botanicals that are proven effective in delivering instant and long-term benefits to achieve a youthful and radiant glow.
It contains Organic lemon that combats dullness and helps give the appearance of a brighter skin from within and any redness on skin caused by irritations is easily reduced by the correcting active Red Micro Algae.
For that flawless looking finish, you can count on its revolutionized Light-reflecting Pigments to blur all your blemishes and imperfections. Additionally, it has a number of Care Actives including the Organic Blue Agave and Organic Acai Palm that work as hydrating agents that give you the feeling of supple and moisturized skin. And to protect you from the sun's damage, it has SPF20, which makes it perfect for everyday use.
Pros
The best thing about this CC Cream is that during application, it glides smoothly on the skin and blends easily with its creamy formula.
And since it's a CC Cream, it provides more coverage than a BB Cream can do while feeling light on the skin without that cakey appearance that most CC Creams are infamous for.
Also, you don't have to worry about any possible breakouts because this product is hypoallergenic, paraben free, fragrance free, and dermatologist tested. Rest assured, it's super friendly on the skin because it is 100% free from harsh chemicals and with its Light/Medium shade, it will fit most skin tones.
Cons
This CC Cream could do better when it comes to the SPF department. There are multiple CC Creams out there that boast of SPF 40 or higher and with the sun's UVA/UVB rays getting harsher these days, the higher the SPF, the better.
The tube is also quite hygienic to use but it could have been better if it came in a pump to avoid wastage and accumulation of bacteria.
Moreover, this CC Cream has good coverage but it's a bit light for those dark under eye circles. So if you want medium to heavy coverage, you have to apply foundation and concealer for those hard to cover spots.
Conclusion
If you are on the hunt for a multi-tasking product that is natural and organic, then this is perfect for you. It's affordable, lightweight on the skin, lasts all day and provides various skin benefits. Briefly, this product is surely a bang for your buck.