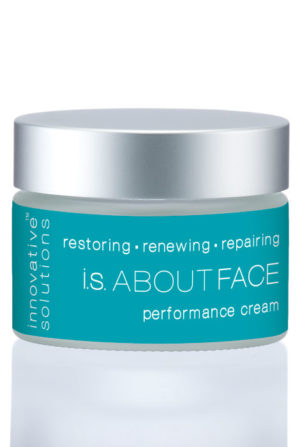 The i.s. About Face is a revolutionary multi-functional facial treatment that provides anti-aging benefits on skin and that is why it was dubbed as an all-around "performance cream". It has a restorative blend of moisturizers, polypeptides, and extracts that work together to smoothen and soften the appearance of wrinkles, relax facial expression lines, and improve collagen production. It is manufactured by As We Change and it contains the company's trademark BioToneComplex that aids in reducing dark spots and evening the skin tone. In as little as seven days and with regular use, a radiant glowing complexion and a firmer and smoother skin can be yours for an affordable price.
Benefits/Features
Aside from its anti-aging properties, this cream is also useful in diminishing oiliness and pore size and as a result, you'll get that matte and flawless look. This treatment is best used during the night, the time of day when the skin's natural regeneration and healing process is most active.
And since it has a lightweight finish, this will be a perfect addition to your daily skincare routine. Just remember to use this cream regularly without fail to achieve the desired results and if you couple this with a healthy lifestyle, you will not only improve from the outside but also from the inside.
Pros
This cream is a proven multitasker, it doesn't just stop there because of the product's effectiveness and amazing results, it can stand alone without the additional use of other moisturizers and treatment creams.
It might be a little bit on the pricey side but once you get to experience the results yourself, money will be the last thing on your mind. It also contains a fair amount of sun protection so it's not totally sunscreen-less that is a good thing especially during hot summer days. The scent is also okay, not full of fragrance but not bad smelling either.
Cons
This product also suffers from one of the most common disadvantages of creams out there because it doesn't have adequate sun protection to prevent the sun's harmful rays from penetrating the skin's surface, but this can easily be remedied with the use of a separate sunscreen product.
This product might not also be suitable to acne-prone skin due to its creamy consistency, so proper precaution must be exercised especially when you have sensitive skin and usually experience breakouts and irritations. The cream comes in a jar so you're going to have to use a spatula or a spoon to scoop the cream as cleanly as possible to observe proper hygiene. And, of course, it would really be a big bonus if the price goes a little lower than the current one.
Conclusion
If you value quality above affordability, then look no more for you have found the perfect cream for your face. With its multiple functions and high-grade ingredients, you'll surely take advantage from its various skin-improving benefits. Although it doesn't specify on the label on whether or not this product is free from harsh chemicals, rest assured it has already been tested by professional dermatologists.