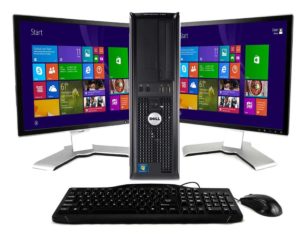 The Optiplex 780 Desktop Dual Monitor Computer Package is manufactured by Dell, a well-known electronic brand for their unique approach to power, efficiency, and innovation. Unlike other monitors, this one was originally designed for the corporate environment, but slowly it has started to become the perfect choice for small businesses and home. This monitor was built using higher quality parts and components than those found on typical retail models, so it can definitely handle heavy usage. Included with the package are a new license and a freshly installed updated version of Windows with the starting price at $164.99.
Benefits/Features
Inside, you can find an 8GB DDR3 RAM, an Intel Q45 Express Chipset, an Integrated Intel GMA 4500, and a 250GB SATA 7200RPM Hard Drive. It also includes 8 USB 2.0 ports, an Intel Core 2 Duo 2.9Ghz Processor and a DVD-ROM Optical driver that enables you to play CDs and DVDs. In addition, the package comes with a genuine license of Windows 10 Home with a COA sticker provided by a MAR. Aside from that, you will get two 19" LCD monitors, mouse, keyboard, and all the necessary cables needed to run the dual monitors.
Pros
The Optiplex 780 desktop is actually a great model to use if you are just getting started and you like to work with the convenience one location has to offer. The computer is fairly fast and it is easy to set up and use, especially if you are already familiar with how to work on computers. The system is also perfect for multitasking tasks which makes it ideal for research, work, school, and some non-heavy duty gaming and multimedia purposes. According to recent tests and trial runs, it runs really well and at such an affordable price, it's not hard to get your hands on one.
Cons
Sadly, it has only one VGA port available so you probably have to buy a 780 tower with mouse and keyboard.
Also, it is very important to remember that this is not a gaming computer so it might not work with the DDR3 1600MHz RAM or certain graphics card such as the NVIDIA GEFORCE GT730 2048 DDR3.
The keyboard, speakers, and mouse that are included in the package are all generic so if you want a better experience, you should get new ones. And last but not the least, there might be cosmetic issues like minor dings and scratches but rest assured, they're nothing to worry about.
Conclusion
Taking all things into consideration, this computer package is undeniably a great value for your hard-earned money. With its affordable price, superb performance and up-to-date hardware and software, this package deserves a 5 star rating. Although you might need to buy an additional Wi-Fi card and video card to use the dual monitors that come with a splitter cable, it's not really that of a big deal. So if you are looking for a good home office computer that fits within your budget, then this one is a match for you!