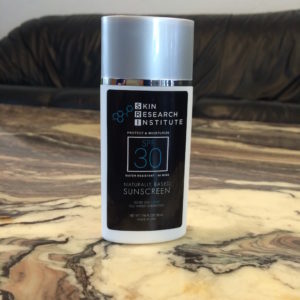 Summer is here. Everyone is flocking to beaches and pools to cool off and have some fun in the sun. With the new season comes a wave of new sunscreens. The latest trend is to avoid standard chemical sunscreen and go for an all-natural sunscreen that not only protects you from the sun, but is good for your skin. This summer, one of the newcomers to light up the market is Skin Research Institute's 30 SPF Naturally Based Sunscreen. They're already laying claim to throne of all-natural sunscreens. The Consumster team is on the case, investigating whether SRI Sunscreen is really worth the buzz.
At Consumster, we evaluate different products on the basis of five factors that appear to be the most important ones for each product. After the identification of these factors, we evaluate each of these factors on a scale of one to ten. We applied the same methodology for Skin Research Institute Sunscreen. The following five factors were shortlisted for the evaluation of the product.
Protects the Skin
Easily Absorbed by the Skin
Hyrdates & Nourishes the Skin
User Safety
User Reviews
Now, we started a thorough examination of SRI Sunscreen based on these factors. Mentioned below is our honest feedback to help you make an informed decision.
Protects the Skin (9.8/10)
SRI Sunscreen is 30 SPF. SPF is one of the most misunderstood qualities of sunscreen, so we're going to explain how it works here. SPF stands for "Sun Protection Factor." It refers to the amount of time you could be in the sun before you get sunburn. So, a 30 SPF sunscreen would allow you to be in the sun 30 times longer without getting burned than you would normally be able to without sunscreen. There are some sunscreens with a higher SPF, but they often come with a cost to the other factors, such as user safety and ease of absorption. Higher SPF sunscreens are either thicker, and therefore not as easily absorbed by the skin, or they contain toxic chemicals. Remember, 30 SPF does NOT mean that you are 30 times more protected—raising the SPF does not protect you more, it simply protects you longer. Being protected for 30 times longer than normal is plenty.
Easily Absorbed by the Skin (9.2/10)
The one short-coming of all-natural sunscreens is that many of them do not absorb well into the skin. They can be sort of pasty and leave white residue all over your face and body. Skin Research Institute claims that their all-natural sunscreen doesn't suffer from this short-coming. In fact, they claim their sunscreen is absorbed by the skin in seconds and leaves no chalky white spots at all. How could they have avoided the one issue that plagues all-natural sunscreens? Well, the "secret" is in their ingredients. Most all-natural sunscreens use Zinc Oxide as an active ingredient for its UV-blocking capabilities. Zinc Oxide is what causes the pasty white residue that doesn't absorb well. For this reason, Skin Research Institute picked a different all-natural compound with equal-or-better UV-blocking capabilities: Titanium Dioxide. The Titanium Dioxide used in SRI Sunscreen is nano-sized, so the particles are too small to see when you rub the sunscreen onto your skin.
Hydrates & Nourishes the Skin (9.5/10)
SRI Sunscreen's other active UV-blocking ingredient is Octinoxate, which has benefits that extend far beyond simply absorbing the sun's rays. Octinoxate can actually repair scar tissue on the surface of your skin and cause scars to diminish. SRI Sunscreen is also loaded with Vitamin E, which is an antioxidant known to fight off free radicals and the signs of aging. It increases circulation to the area that it's applied and helps keep your skin moisturized. To add to the ample skincare benefits of SRI Sunscreen, they added Sunflower Seed Oil, which is high in Vitamins E, A, C, and D. Vitamins E and C, when combined, further assist in blocking UV radiation from damaging the skin. Furthermore, Sunflower Seed Oil has moisturizing and anti-aging benefits that are even more extensive than Vitamin E.
Like all products from Skin Research Institute, SRI Sunscreen has been manufactured in an FDA registered facility maintaining a strict quality standard. This product is completely free of toxic chemicals, such as Parabens, Sulfates, and Phthalates. SRI Sunscreen is also gluten-free and suitable for vegetarians and vegans. There are some myths out there about the dangers of Titanium Dioxide and Octinoxate, but those compounds are technically not actually absorbed by the skin, so they can't harm you. They are nano-particle compounds, meaning they are so small that you can't see them when you rub them onto your skin, but they are still large enough that the skin can't absorb them. They simply form a barrier on top of your skin.
Most of the SRI Sunscreen users so far have expressed their satisfaction about the results they have observed. Going through these reviews, it appears that the product has effectively protected the skin from UV radiation, while also providing moisturizing and anti-aging benefits. Some of these reviews suggest that SRI Sunscreen needs about a month of continuous daily application in order to see the anti-aging benefits, such as diminishing wrinkles and tightening the skin.
Summary:
Our thorough evaluation revealed that SRI Sunscreen is a potent all-natural formulation that absorbs easily into the skin, without leaving the pasty streaks or chalky white spots, and still effectively protects the skin from UV radiation. Even better, SRI Sunscreen's ample Vitamin and antioxidant content helps moisturize, rejuvenate, and repair the skin. On top of being an effective all-natural sunscreen, this new product from Skin Research Institute can serve as a helpful anti-aging agent with the way that it fights off free radicals, improves circulation in the skin, and reduces wrinkles.
Overall Rating: 9.8
You can find more information about the product here: SRIsunscreen.com