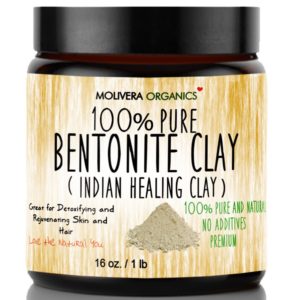 The 100% Pure Bentonite Clay is produced and distributed by Molivera Organics, one of the leading brands on the beauty and wellness industry. It is specially formulated to target the imperfections on your hair and skin and provide you with a clear and glowing look coupled with luxurious and bouncy tresses.
It is 100% natural and pure with no added additives so you'll be guaranteed a worry free detoxifying and rejuvenating experience. It normally costs a little over $20 but with various discounts and promos available on certain sites, it can retail for as low as $11.47 for a 16 oz. Bottle.
Benefits/Features
This 100% Pure Sodium Bentonite Clay is of premium grade and imported from Wyoming, specifically from the feet of volcanoes. Its healing properties are known to tackle blemishes, acne, blackheads, oily and irritated skin, rosacea, eczema, rash, psoriasis, scars and dark patches, large pores, dull skin, wrinkles, lifeless hair and many more.
It has a unique ability to produce electrical charges that absorb the skin's toxins, chemicals, heavy metals and other impurities that can cause ugly looking skin. And perhaps the best out of its many benefits is its ability to regenerate and heal damaged skin tissue, wrinkles, scars and dead hair. It comes in a special UV protected bottle in order to seal in the product's healing properties.
Pros
This healing clay is suitable for all skin types because it is hypoallergenic, gentle, and free from harsh chemicals, that is why it is definitely recommended for sensitive skin. Regular use of this clay will result to supple, soft, touchable, and flawless looking skin with a youthful appearance that will make you even more beautiful than before. Additionally, it is so easy to apply because the directions written on the bottle are precise and easy to understand. You just have to mix the clay, apply it on your face, and wait for about 15 to 20 minutes and voila! You now have younger healthy looking skin.
Cons
The product is in powder form and only 16 oz. is contained in one bottle so don't expect it to last long if you are planning to use it regularly.
Ideal use of this relaxing skincare regimen would be once or twice a week depending on your skin type. It doesn't come with a spoon so you'll have to buy a separate one.
Also, the 15 to 25 minute waiting time might be a bit too long for some of you but it is highly recommended for best results, so you really have to be patient.
Conclusion
This Bentonite clay is best for people who have many imperfections on their skin and hair and for those who want to achieve that healthy to-die-for visage. Alternatively, it can also be used as a mud mask, as an underarm detox solution, or for a much-needed foot soak. On another note, according to ratings, the performance of this healing clay is beyond excellent. It's budget-friendly, super effective, and comes from a highly respectable brand, so it's worth a try.