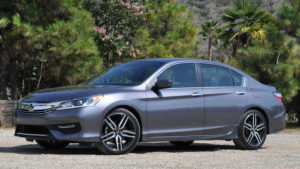 Are you shopping around for 2016 Honda Accord? If so, you may be looking for a review that could give you an idea on what to expect from this car. Briefly, it is a good choice for driving your family around as well as in commuting. Additionally, it has excellent interior, providing every passenger a smooth and comfortable ride with its comfortable features, and high tech functions.
According to the experts, the car also provides fuel efficiency and it has responsive optional CVT. For its 2016 model, it comes with refreshed styling and some optional functionalities or features, which include Apple Car Play, Android Auto, front and rear parking sensors, heated rear seats and so many more.
Infotainment
The mid-sized car is a decent choice based on expert testing and reviews. What makes it good is that it offers high tech interiors as well as infotainment features, which can keep you connected when traveling. This is one of the most sought after features that users are looking for a car, especially if they need to bring work with them, want to listen to music, connect to the internet or chat with family and friends.
Enough trunk room
If you're always on the go and then taking home souvenirs from your travels with you, then the Honda Accord 2016 may also be considered. It is a great pick when it comes to hauling groceries, luggage and sports gear. There are also much appreciated driver assistance functions that can keep you and your family safe and secured when on the road.
Power
This car has a powerful base engine that can keep up with you driving needs. It also comes with an optional V6 for providing you with more muscle, especially when driving on the highway. You may consider this car if you are looking for fuel efficiency, too, with its automatic transmission (optional) and base engine. In the end, it may help you save money while providing you with a safe and smooth ride even on rough roads.
Classy cabin
The latest version of the Honda Accord impresses the experts and road testers, not only for its top performance features but also for its classy overall interior, which looks handsome and modern. It also includes metal trim pieces and premium materials. It also has an impressive finish that can be compared to some competitors like the Mazda6. You can choose the trim level you desire, and these include leather or cloth upholstery in tan, black or gray.
It also has comfortable front seats that can provide you and your family with comfortable ride, and it includes power-adjustable and heated front seats that can give every passenger an even more comfortable ride, especially during long trips.   Its rear seats are also excellent because they are roomy, and they can provide enough room for the legs and head. These rear seats can also be heated if you desire so. Not to forget, the Accord 2016 also features tall windows and narrow pillars that can give you a great view of the outside.
With all these top performance and styling features, there's no doubt that the Honda Accord 2016 is a consistent ranker in the mid-sized car category. Overall, it is a decent choice for a similarly mid-sized family that loves traveling around.