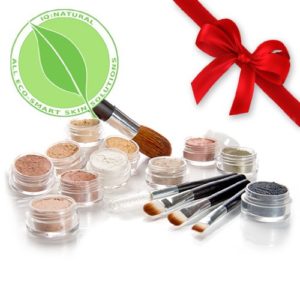 Mineral Makeup Samples Set consists of different colored eye shadows and blush and it comes with a foundation and a five-piece brush kit in various sizes. It is manufactured by IQ Natural, makers of several popular makeups and makeup sets in the market. It is packaged in a 5-gram jar, which is about the size of a quarter, but with average use, it will definitely last for a very long time. The colors in this makeup set were designed to blend in with skin tones and it is offered at $17+, a whole lot cheaper than other high-end brands.
Benefits/Features
From the name itself, this makeup set is 100% natural, environment-friendly, and skin-friendly. It is surprisingly long lasting when applied on the face and with proper application; it can last the whole day. It doesn't contain preservatives, fragrances, waxes, bismuth oxychloride and other harmful chemicals that can irritate the skin and clog pores. It comes in the shade Medium with natural undertones so this is a great range for many women that fit with shades like medium beige, light warm, medium tan, and tan. Upon application, you're only going to need a slight tap of the product because a little goes a long way.
Pros
The greatest thing about this product is that in less than $20, you get not just eye shadows and blush but also a foundation and brush kit, so its undeniably worth every penny. The jars are so small that it's the perfect size for travel because it can fit in your makeup bag and be taken absolutely anywhere. With its long lasting effect, there's not much need for touch ups and this will be quite convenient in the end. It works great on anyone for it offers a great coverage that helps diminish the appearance of small zits, evens skin tone, and controls oil.
Cons
The thing about small containers with no lid is that sometimes it can get messy, especially if you are applying in a hurry. The brush kit that comes with it is an added bonus but it is made of low-grade materials so you might want to invest on premium brushes. Additionally, its foundation only has light coverage but there's nothing to worry about because it can also double as a primer. And lastly, it has no SPF, which is a big bummer, but this probably won't matter if you are the kind of person that applies a separate sunscreen product.
Conclusion
Overall, this product is a great kit so this is highly recommended for those with a tight budget that also wants to try their hands on mineral makeup. The quality is quite good for its price since the makeup provides a sheer finish that doesn't settle into fine lines and makes your face look streaky. Moreover, it has a Certificate of Guarantee, which enables you to return the product within 30 days if for any reason you are unsatisfied, and you will be refunded for the full cost. So what's stopping you from buying one now?