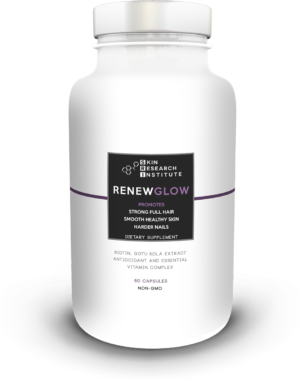 Skin Research Institute the maker of RenewGlow is known for their extensive scientific research on skin care and anti-aging solutions.
SRI claims that taking 2 tablets of this supplement every day will help you fight the aging process from within, help boost hair and nail strength while making your skin healthier and smoother. Lets take it to the test.
Consumster evaluates different products on the basis of five factors that appear to be most important for each product. After the identification of these factors, we rate each product on a scale of one to ten. We applied the same methodology for RenewGlow. The following five factors were shortlisted for the evaluation of the product:
1) Boosts Hair Strength.
2) Improves Nail Hardness
3) Promotes Healthier Skin
4) Safety
5) Results
Most scientists now agree that aging is, at least in part, the result of accumulating damage to the molecules that make up our cells. RenewGlow Formula uses a High Quality Vitamin & Nutrients Complex that helps slow the aging process of your whole body by supporting cells growth and replenishment. The distinctive antioxydant activities supported by Vitamin C and Vitamin E promote health by preventing eye disorders, cognitive decline and fatigue, among others.
Collagen gives the skin its strength and structure and is essential in the replacement of dead skin cells. Unfortunately, Collagen production naturally declines with age, reducing the integrity of the hair, nails and skin,  leaving you with saggy skin, wrinkles and lines, weakened and aching joints, thinner hair and nails. Vitamin C plays a vital role in the building of Collagen, which underlines again the importance of Vitamin C in slowing the aging process.
"Vitamin C is essential for the building of collagen. This connective tissue has structural and supportive functions which are indispensable to all tissues. Collagen is not only the most abundant protein our bodies, it also occurs in larger amounts than all other proteins put together. It cannot be built without vitamin C." Roger J. Williams, Nutrition Against Disease (1971). http://www.vitamincfoundation.org/collagen.html
"We have come upon reasons why we require for good health so much larger amounts of vitamin C than are present in the plants we use as food… It has recently been shown that, one molecule of vitamin C is destroyed for each H (hydrogen atom) replaced by OH (during the formation of collagen)… Vitamin C, in the critical reactions that assemble collagen in the tissues, does not serve merely as a catalyst but is destroyed." Linus Pauling – How to live better and feel younger (1986) http://www.vitamincfoundation.org/collagen.html
RenewGlow contains 667% of the Daily Value of Vitamin C, therefore will help building more Collagen to replenish your skin and develop healthy tissue faster.
3) Promotes Hair-Skin-Nails Health (9.4/10)
Biotin (Vitamin H, part of the B complex group of vitamins) is necessary for cells growth and needed for strengthening hair and nails. Unfortunately, your body cannot store it. Even if a bacteria in your stomach can make Biotin, it might not be sufficient to prevent hair thinning and split nails, or to repair your skin. RenewGlow high dosage of Biotin (1667% VA) promotes hair, skin and nails health and youthfulness. And it's safe because regardless of dosage, biotin is generally non-toxic, does not have known side effects and is water-soluble vitamin, easily removed from the system via urine.
4) Safety (9.8/10)
The company's Harvard educated director and his team of scientists and skincare professionals work relentlessly to find the best solutions and cures to aging. All the research, development and production are done in American facilities, following the FDA guidelines. The company has its products multi-tested throughout the production line to maintain the highest quality standard. Not to mention that Skin Research Institute is committed to never use heavy metals and toxic chemicals such as paraben, sulphates, and phthalates. RenewGlow is also gluten-free and cruelty-free, so suitable for vegetarians and vegans.
5) Results (9.5/10)
As you know, we usually use in our reviews regular customers opinion on the product but RenewGlow hasn't been distributed yet and therefore doesn't have available reviews. That's why 10 lucky readers got the opportunity to preview it for you. We met them one by one after 4 weeks to know their reaction. Most of them reported shinier and stronger hair, hard nails and glowing skin. In addition, one of them had an unexpected testimony: "The pain I had felt for months in my right knee is almost gone. I feel and look younger than I did on my 50th birthday!"
Summary: Our thorough evaluation revealed that RenewGlow is a potent formulation to promote stronger hair, smoother skin and harder nails. Moreover, this supplement fight aging at its roots for better and longer-lasting results. The product is considered safe because it is completely toxin-free. Please note that Skin Research Institute will offer 60-day money back guarantee on all orders, as for all their products. RenewGlow will be available soon but you could be informed of the releasing date by subscribing to the company newsletter.
Overall rating : 9.6/10