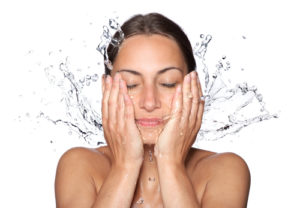 You might think it's strange to use an oil to cleanse your face. And what does "Dry Oil mean?" Nothing can be oily and dry at the same time, right? I was skeptical too, until I got introduced to this particular way to cleanse my face and, unexpectedly, remove my make-up.
Let me explain. My skin's always been ultra-sensitive. Using wipes or even a sensitive skin lotion on a piece of cotton would always be painful and my skin would be red and burning for what seemed to be hours. So I just stop wearing makeup whatsoever. But I was also really into theater in College and was performing every weekend. I couldn't escape it. That's when I was introduced to the product that would change my life and my skin: a Cleansing Dry Oil!
Benefits/Features
The best way to clean your face is with your bare hands. I know, it's a shock! "Any kind of wash cloth, wipe or cotton –even specifically directed to sensitive skin—could irritate and inflame your skin," said Cathy Loiseau[1]. With an oil cleanser, you only need to humidify your skin and massage it with your clean hands. You will remove any oil or dead skin from your face in no time and, more important, in perfect wellness.
And, no matter your skin type, cleansing oil mixes with the oils already on your face, according to Jennifer Leigh[2]: "Your skin naturally produces sebum, your make-up and face creams add to your natural oils. By massaging a dry oil on your face then rinse it off, the 'good oil' takes those 'bad oils' and dirt along with it, in the most gentle way."
While irritation and inflammation direct lead to faster aging skin, most oil cleansers contain antioxidants and anti-aging ingredients that also improve the texture and appearance of your skin. And, whether you're in your early twenties or late seventies, you want to keep your skin young for as long as possible, right?
So, how can you find the best Oil Cleanser that will gently clean your skin and improve its texture without tearing a hole in your wallet? I chose 3 for you.
My Absolute Favorite: Extreme Cleanser-Balancing Cleansing Dry Oil From Make Up For Ever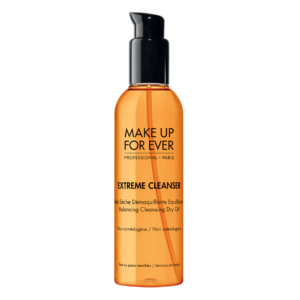 It not only feels awesome, but it also instantly removes impurities and all types of makeup including waterproof ones. Rich in regenerative active ingredients, its oil-free formula will leave your skin soft, moisturized and fresh. You won't feel any more tightness or dryness, and your skin will be ready for your daily makeup or night cream. The bottle cost $32 online[3], but you can also find it at Sephora, if you want to try it first. And, because you need just a tiny amount to clean your whole face, the bottle lasts for a very long time –about 3-4 months for me. Make Up For Ever is a French brand, exclusively developed and sold in Paris. That's why it's a little bit on the higher price range.
My #2: Deep Cleansing Oil® From DHC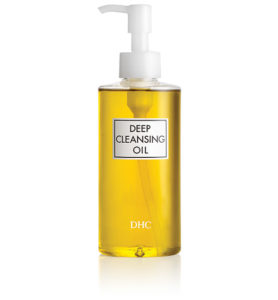 Massaging it on your dry face and you will already notice its cleansing power. But mix it with a little bit off water, and it transforms into a rich and luxurious emulsion. Your make-up will disappear and your skin will feel soft and nurtured. Super rich in antioxidants, a bottle costs $28 on line –they have regular discounts on their website[4]. You can also find it on Amazon and beauty stores all over the country.
The Luxurious One: One Step Camelia Cleansing Oil From Tatcha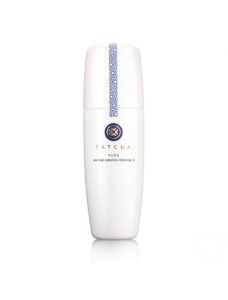 Looking at the bottle will make you feel like a Princess, but use it and you'll feel like a Queen! Its beautiful blend of Camellia and Rice Bran oils makes it a gentle, two-in-one makeup remover and cleanser to melts away even waterproof makeup. But it has a cost: $48 per bottle[5]… Well spent though, as it will leave your skin purified, silky and soft. You can buy it almost anywhere.
Conclusion
Cleansing oils have been proven to be the best alternative to cleanse your face and dissolve even waterproof makeup. I personally love them and wouldn't use anything else. I love that my sensitive skin feels soft and taken care off. And that feeling lasts for several days, even without use it. I still had some acne when I started using "Extreme Cleanser" from Make Up For Ever. My skin cleared up faster than with any specific cream. And stay clear. I highly recommend for you to give cleansing oils a try, no matter which one you choose. Then, please, let me know how it goes.
[1] Chief Make-up Artist at Disneyland Paris
[2] Director of Research and Development in Women's Health at Skin Research Institute
[3] Extreme Cleanser Make Up For Ever
[5] One Step Camelia Cleansing Oil Tatcha