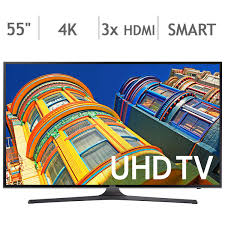 With four times the picture resolution of a 1080p HDTV and the ability to upscale all of your current content to near-Ultra HD quality, 4K TVs are believed to be the future of television.
But the offer is big and it can be complicated to choose the best screen for your needs.
At Consumster, we decided to review the Samsung 55' Class 4K Ultra HD TV.
1) Flat Screen Vs. Curved Screen (7.8/10)
By looking at 4K TVs in display, you will easily pick whether you're pro-curved or pro-flat. Which screen do you think look nicer? Which one will fit better in your living room?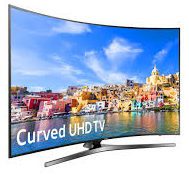 The main selling argument of curved screens is their immersiveness to the viewer sitting in front of them, meaning that these screens slightly expand the perceptible quantity of screen space for their diagonal size. Unfortunately, it is barely noticeable for the average size 4K TV, the one that you would hang in your living room. Speaking of, curved screens are a bit bulkier than flat screens—due to their thicker screen profile—and more complicated to mount to the wall. Sitting just slightly off-centered can ruin your experience and destroy your viewing angle.
However, the depth is definitely enhanced with a curved screen and can give you a better 3D experience. Added to the usually superior contrast—a technology that most curved screens have—you might enjoy higher quality TV even more than on a flat screen.
We do like the curved screen better, just because of its aesthetics. But the difference doesn't seem to justify the price and convinced us towards the flat screen.
2) Specifications (9.3/10)
The key specs are pretty impressive and comparable to its competitors, except that LG and Sony offer High Dynamic Range (HDR) on their models. HDR means more contrast—deeper blacks—and brighter colors. However, these specific models all are LED and, in the grand scheme of things, it won't matter which type of TV you have as to whether it will be HDR compatible or not. LED TVs will give you an HDR image with better peak brightness but less deep blacks.
It is also Energy Star Certified—uses 20-30% energy than Federal standards—with built-in Wifi and streaming apps.
3) Product Features (9.4/10)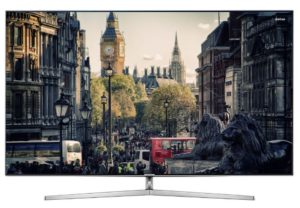 Experience movies or documentaries on this 54.6" in diagonal and 2160p resolution. Whether you use your Smart TV to stream—Netfix, Youtube or other built-in apps—or connect your other media, you will enjoy high-speed action with perfect motion clarity, breathtaking HD images and a Dolby Digital Plus sound. Your living room will feel like your own movie theater.
4) Price (9.7/10)
Sold at around $800, on line and in stores, this Samsung 55" 4K is priced competitively. Surprisingly, Samsung is the only brand to offer their curved screen model at the same price as the flat screen one.
Like for other brands, you get a 1-year warranty for parts and labor, with the option to add 2 more years with most sellers.
Less renowned brands offer comparable screens for under $500, however you could find sales on this Samsung 55' Class 4K Ultra HD TV and buy it for as low as $599.
5) User reviews (9.5/10)
For most users, this screen is an upgrade from a much smaller, much older screen. They seem extremely satisfied with the picture quality, the ease of use, and mostly the price.
97% of the owners of a Samsung 55' Class 4K Ultra HD TV would recommend it to friends and family.
We got to use it for a couple weeks before writing this reviews and love it! The colors are amazing and really realistic. It starts fast when you turn it on, with no delays that you sometimes encounter with other brands, and the sound is bright and clear.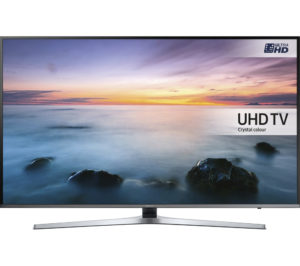 Summary
Comparing this model to its competitors made us like it even more: same features, excellent reviews and usually better price! We definitely recommend that buy. I would personally choose the flat screen model, just because I watch TV with family and friends and I want everybody to have the same great experience.
Keep in mind that the Samsung 55' Class 4K Ultra HD TV is an entry level in the 6 series, so you could get even better quality if you're ready to pay more.