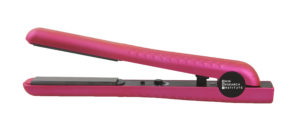 Hair straighteners and flat irons have been on the market for ever. Remember those 1980s looks? They were due to perms or irons. In both case scenario, people ended up with damaged hair. Today's technology advancements seem to have reconciled good style and healthy hair.
The Skin Research Institute has been a pioneer in beauty and cosmetics for years. They now have their own flat iron: SRI Straight Pro.
Consumster reviewed this hair straightener to give you an objective overview.
Technology (9.8/10)
The SRI Straight Pro features solid ceramic plates that can diffuse the heat so that it doesn't burn your hair. And, when cleaned regularly, their texture will prevent pulling or tugging.
The advanced infrared heat with negative ion technology eliminates electrostatics and frizzes to give you a smooth finish. It also works to dry damp hair faster as it causes water molecules to dissipate from the hair shaft quickly.
Styles (9.7/10)
Even if it's referred to as a "Flat Iron" or "Hair Straightener", the SRI Straight Pro can be used to create various hair styles: sleek-pin straight, curls or waves. The difference lies in your wrist movement. The more you rotate, the curlier your hair. It is easy to use and you control your style from beginning to end. Because it only requires just one run through most types of hair, you can get ready faster.
Safety (9.4/10)
Previous flat irons were known to burn hair. This time is long gone. Its temperature settings allow you to decide how hot you want your SRI Straight Pro to be. So you are responsible for your hair's health.
Temperature recommendations by hair type:

Fine or damaged hair: 250-300 degrees
Medium/average hair: 300-350 degrees
Thick or coarse hair: 350-400 degrees
The SRI Straight Pro's design makes it easy to handle, and, because it won't get tangled in your hair, you won't have to pull hard. The only way to burn yourself would be if your skin touches the plates. Start an inch from your scalp and gently pull out while passing the flat iron through your hair. You'll be fine.
The SRI Straight Pro also shuts off automatically when unused for 60 minutes.
Guarantees (10/10)
The SRI Straight Pro is the only flat iron on the market to come with 2 guarantees:
60-Day Money-Back Guarantee: you can send your hair straightener back for any reason within 60 days of your purchase for a full refund, no questions asked.
10-Year Technical Warranty: if any of the SRI Straight Pro's parts stops working within the first 10 years of you owning it, they'll replace it.
Reviews (9.7/10)
We randomly called women who have tested or bought the SRI Straight Pro within the past 3 months. Most of them reported being happy with that flat iron. They commented on the design and said they found it easy to use. Some even told us their hair texture improved since using it. It would tame their hair's electrostatic reactions. The only negative comment we heard was based on its price. We found that it was priced in the low bracket of the market, while being of extremely good quality. And the Skin Research Institute offers 29% discount when you sign up for their First Time Customer special.
For all these reasons, we feel comfortable recommending the SRI Straight Pro and encourage you to take a look at their website.
Pros
Easy Styling, Glides Through Your Hair
Temperature Controle
60-Day Money-Back Guarantee
10-Year Warranty
Made By The Skin Research Institute, In America
Cons
Small Offer, Might Be Backordered
Only Available Online