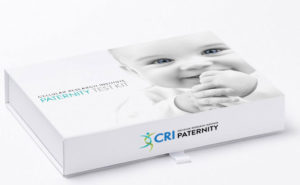 Paternity tests are becoming increasingly common. You are even presented with a few at your neighborhood drug stores. Such a big offer could be overwhelming. What should you focus on when shopping for a paternity test? What should you expect?
CRI Genetics has an excellent reputation in the genealogy testing industry, with accurate results and detailed reports. They created CRI Paternity to answer a need for certainty.
Consumster reviewed CRI Paternity so you can decide if they fit your needs.
Technology (9.9/10)
CRI Paternity is a branch of CRI Genetics. It was created by the same internationally published scientists (including Alexei Fedorov, Ph. D.), using the same technology. Thanks to his genetics and informatics knowledge, Mr. Alexei Fedorov developed the computer to deeply analyze over 500,000 genetic markers in the human genome. His patented algorithm is a first in its category and a unique advancement for genetic research in general.
Accuracy Of The Results (10/10)
A child receives half of his DNA from his biological mother, half from his biological father. Thus, paternity tests compare a father and his child's DNA to make sure they match (one allele of each gene needs to be identical). Paternity tests compare up to 16 genetic markers to assess if the alleged father "can or cannot be excluded" as the biological father. Thus, their answer is ambiguous at best. Because there is always a probability, even infinitesimal, that 2 or more men share those same 16 genetic markers. That's why those tests can't assert: "You are the father". These companies recognize that the more genetic markers compared, the more accurate your results.
CRI Paternity compares 642,824 genetic markers, and there is no probability that two individuals on Earth share all of these markers. That's why CRI Paternity results will tell you: "You are the father" or "You are not the father". No questions asked. The results will be assertive.
Users Reviews (9.2/10)
After what might be seen as a stammering beginning, CRI Paternity's user reviews became impressive. People comment on the quality and easiness of report they receive, talking about good customer service interactions, with polite and pleasant agents. Users also report that their questions are answered in a timely manner (usually under 24 hours), and that their privacy is always respected (with up to 4 privacy questions before the agents pull off the profile). Personal information is never shared over the phone and most customers appreciate that point. The main complaint comes from the waiting time before receiving the results. We contacted the company about that subject. They answered that testing such an number of genetic markers takes time, and they are working on reducing the results turn-around. They plan a new release by the end of the year.
Tests Offered (9.7/10)
CRI Paternity tests any family relationship: father-child, mother-child, siblings, cousins, grand-parents, aunts/uncles. They also test any combination of these relationships, including 3, 4 or more individuals. Their price doesn't vary with the sex or the closeness of the relationship, like most companies, but with the number of people tested. There are transparent on their pricing and often offer promotional discounts. As a branch of CRI Genetics, they also offer several other options, as Geographical Ancestry and Parental Lineage. All done with one test only.
Guaranty (9.8/10)
Most companies wouldn't offer a Money-Back Guarantee, stating that they cannot assure you'll be happy with your results. They often promise just a few days before you receive your results, but no compensation if you have to wait longer. CRI Paternity offers 100% Money-Back Guaranty if your test results take longer than 8 weeks (they usually take closer to 3-4 weeks, but issues could come up). They also offer a 100% refund if you change your mind, decide not to take the test and send it back unopened within 60 days.
For all these reasons, we feel that you should consider CRI Paternity to get that peace of mind you seek. We encourage you to take a look at their website.
Accuracy Of The Results
10.0/10
Pros
Branch of CRI Genetics, known for its reliability and the detail of its reports
642,824 genetic markers tested
Same price regardless of the sex, age or relationship tested
Possibility to upgrade to Ancestry and parental lineage test
Money-Back Guarantee
Cons
Longer turn-around than other companies
Only available online