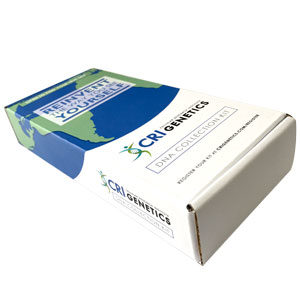 CRI Genetics has needed less than a year to reach the top. The company's growth, its customers base and data analysis tools improved exponentially over the last few months of 2017 leading into 2018. So much that we thought it was worth taking a new look at their offer.
Because we've reviewed it last year, we'll skip the basics. Instead, we'll study the changes in the company's policies and offers so we can better understand its spectacular rise.
1) Number Of Tests Available (9.6/10)
CRI Genetics DNA Tests started with BioGeographical Ancestry but quickly opened to Maternal and Paternal Lineages, and then Famous People belonging to the same lineage. After reviewing these tests, we believe they offer an exhaustive study of your origins. Some might disagree, arguing that competitors offer physical traits reports, but we strongly feel that these reports are everything but necessary. CRI Genetics focuses on your origins, and its scientific explanation, not on things you can see in your mirror. However, we'd be happy to discover even more functions in the future.
2) Improvements In The Reports (9.9/10)
As they were growing the number of tests available to the public, CRI Genetics also tremendously improved their data processing tools. They started with an already impressive amount of genetic markers tested— to culminate to over 600,000 genetic markers studied today, thanks to the algorithm Alexei Fedorov Ph.D.—their Head of Research & Department—created especially for the company. Mr. Fedorov, an internationally acclaimed geneticist, also created an original computer engineering system to compare more samples at the same time. Thus, his system greatly improves the accuracy of the results. Finally, CRI Genetics worked on the design and accessibility of their website and reports to make them more attractive and understandable, whether you have genetics knowledge or not. These drastic improvements led to more detailed reports, better scientific data and increased customers' satisfaction.
3) Customers' Satisfaction (9/10)
While implementing their new features, CRI Genetics experienced some delays and less satisfied customers—authors of some bitter reviews. However, a quick look at the company's sales vs. return ratio proves that over 90% of the customers are happy. We were granted the opportunity to directly talk to some CRI Genetics customers. A wide majority of them said their satisfaction with the features of the reports and the easiness of the test. Some commented on the "8 weeks money-back guarantee" and its uniqueness on the DNA testing market. Others talked about their contact with customer service at any step of their journey. Finally, some expressed their surprise regarding the speed of the results. The company guarantees your results within 8 weeks after they receive your samples in their laboratory, some customers said receiving them in as fast as 2 weeks. The overall customers' satisfaction is pretty high, attesting the quality of the service, and the offer.
4) How They Deal With Unsatisfied Customers (9.8/10)
As said above, some customers were unsatisfied. They either experienced a longer than expected delay before receiving their results.
Because they experienced some delays due to their extremely fast growth, they offered full refund or a coupon code to those customers affected by delays exceeding their 8 week guarantee, until the whole process was up and running. They also offer full reimbursement if you received your results in more than 8 weeks (from the time your swab is received in their lab) —they are the only company on the market offering such a money-back guarantee. You can also reach out to CRI Genetics customer service directly. They will answer you in a timely manner and will try their best to make you happy.
5) Branching Out (9.7/10)
Since last year, CRI Genetics multiplied and improved its offer. They also started branching out with CRI Paternity. Using their pattented algorithm and computer engineering system similar to CRI Genetics, CRI Paternity can give multiple filiation degrees with much more accuracy than any other DNA testing company on the market. You can combine those results with your Ancestry, Maternal and Paternal Lineages and Famous People reports. And they let slip that they're getting ready for something even more exciting. So stay tuned.
Summary:
After reviewing CRI Genetics a second time, we definitely understand why the company grew that fast. It's no secret or coincidence, but due to the hard work of brilliant minds and extraordinary concepts. We are looking forward to what CRI Genetics will develop in the future, and how they will keep improving their existing offer.
Meanwhile, you can learn more about the company on http://crigenetics.com.
Number Of Tests Available
9.6/10
Improvements In The Reports
9.9/10
Customers' Satisfaction
9.0/10
How They Deal With Unsatisfied Customers
9.8/10
Pros
Top quality scientists and geneticists
Reports easy to understand and attractive
Great customer service
Original algorithm and computer engineering system
DNA tested in the US
Cons
6-8 weeks before results (or your money-back guaranteed)
Only available online