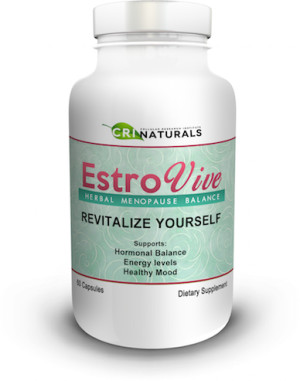 Does Estrovive Actually Work To Relieve Your Menopause?
Are you a woman looking for menopause relief and you're not sure about the hassle and dangers of traditional hormone therapy? Estrovive, an herbal remedy supplement, might be the solution for you. In this review, we put Estrovive under the microscope for a complete Estrovive Review and tried to figure out what really makes it work, and if it's a product you should depend on to curb your menopause symptoms.We looked into Estrovive on the basis of its ingredients, customer service, and available user reviews online.
Pros and Cons up front
Pros
–Ingredients are potent, holistic remedies confirmed by science.
-Ironclad guarantee backed by a full refund.
-Made in FDA certified labs here in the US.
-ships quickly and discretely.
Cons
-Not as cheap as other menopause relief supplements
-Goes on back order often
-May not experience results in first week of use as your body adjusts to the supplement.
-Product contains soy, which may cause allergic reactions in some individuals.
Quality and potency
We researched the major herbal extracts and powders that are present in Estrovive to determine their usefulness as menopause-symptom relieving remedies. In addition to a wide variety of other herbs, the supplement is packed with concentrated extracts of Black Cohosh and Red Clover, containing 160mg and a staggering 400mg, respectively.
These herbal extracts are known from holistic medicine to be womanly herbs that have long been used to alleviate a variety of reproductive issues, and modern science is just now confirming their medicinal value in clinical studies. When we compared these herb concentrations to other products, we regularly saw higher concentrations of active ingredients in the Estrovive formula.
Furthermore, the supplement is manufactured in FDA certified US laboratories, and does not sit in a shipping crate for months at a time coming from China, which can kill the potency in many supplement products.
Shipping and Customer Service
Our product arrived in a discrete, nondescript brown package. Since the supplement is shipped from a fulfilment center in Utah, it shouldn't have much trouble getting anywhere in the continental United States in a reasonable amount of time.
Before we even started looking at user reviews on the supplement, we immediately called customer service posing as a dissatisfied customer to see how hard it would be to get our money back.
The phone rep was a real human, polite, and gave us step by step instructions on how to return the product and that our account would be credited with a full refund when the used/unused bottles were returned to the required address. However, he did know from the shipping confirmation data he had in front of him that we had only had the product for a couple days, and insisted that we abuse our 90 day guarantee window to its full extent before sending it back. All in all, we were pleased with our experience with customer service.
Did it work for the women who tried it?
We scoured the internet for customer testimonials on Estrovive and what we found was mixed, but mostly positive. There seems to be a range in the time window that the product requires to take effect, but does seem to eventually provide relief.
In the first week of use, the vast majority of customer testimonials we read insisted that they felt no effects.
However, as time goes on, women that stuck by the product began to report results. Starting as early as the tail end of week two, and most typically by week three, many testimonials that stayed on the regimen reported noticeable relief from hot flashes, night sweats, and improved sleep. As these users scaled into the fourth week and forward, relief from these symptoms progressively escalated.
Keep in mind that your personal results may vary, but when we checked the directions on the bottle, we did observe that a single bottle included enough tablets to last a whole month, and the 90 day guarantee will cover three months of product.
Our rating- 9.2
We would like Estrovive better if it worked faster and was cheaper, but the manufacturer insists that the cost of the product is due to the real, potent, high quality ingredients in the supplement, and that the buildup time is due to the natural progression of the ingredients going to work. Our volunteer did eventually experience significant relief from menopausal symptoms after a few weeks on the supplement, but your results may vary.
Overall we believe that Estrovive is at least worth a try for most women dealing with menopausal stress. The company's commitment to their money back guarantee is a significant factor in our satisfaction.