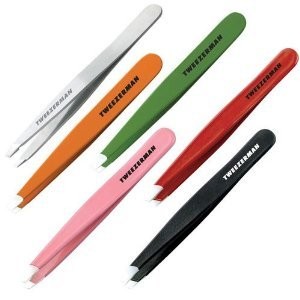 Do you have unwanted hair on your face or body? Is it difficult to pluck the hairs without causing yourself pain, especially when trying to get to the tiny stubs? Does shaping your brows give you more grief than pleasure? If you answered yes to any (or all) of these questions than a Tweezerman Slant Tweezer is exactly the answer you've been waiting for.
Perfection doesn't exist but Tweezerman Slant Tweezers come close.
The fashion and beauty editors of Allure have named Tweezerman Slant Tweezers a "Best of Beauty" winner for the past fourteen years. And fans worldwide have been raving about these amazing tweezers for years.
What makes Tweezerman Slant Tweezers so great?
From the award-winning Slant tip to the smoothest precision point one can find for plucking, Tweezerman Slant Tweezers are a must have for your grooming needs. Made from stainless steel, these tweezers are durable and long lasting. Their Slant tip design makes it incredibly easy to grab hairs anywhere on the face and body. The tip is hand-filed and aligned, making it the perfect tool for plucking hairs from long ones to those pesky short little stubs we all know and hate. The Slant provides a way to effortlessly pull out hairs, even stubborn ones that are barely beyond the surface. This tweezer will not only get the job done but also do it much easier than ever before.
The tweezers provide extreme precision, and anyone who plucks hairs from their face and body will know how important it is to hit the right spot. The last thing anyone wants is markings left on their face and body from plucking hair. Plucking should be an invisible art, correct? These tweezers make that a reality for you, all the while doing it painless and with ease.
But is there really a difference between tweezers?
Yes, there absolutely is. While tweezers may appear to be these simple little tools that one shouldn't give much thought to, the truth is anything but. A tweezer's design and shape has everything to do with how they get the job done. Not only does the Slant of the Tweezerman tweezers provide a much easier way to remove unwanted hairs, but the perfectly aligned tip provides superior precision work that regular tweezers have difficulty delivering.
Still wondering if Tweezerman Slant Tweezers are the best for you?
What if I told you that each tweezer comes with free sharpening? That's right, FREE SHARPENING. And the whole process of getting your tweezers sharpened is made incredibly easy for you. Also, each tweezer comes with a guarantee to deliver as promised. Risk-free buying is exactly what customers deserve and Tweezerman provides that for you. You can take comfort in knowing your purchase is made with no risk to yourself should that not perform as you expect. Also, Tweezerman slant tweezers are made from time-honored stainless steel making them easy to clean and long lasting.
It's safe to bet that few people enjoy the process of plucking unwanted hairs from their face and body. It can often be painful and uncomfortable, not to mention humiliating and unwanted. Who wouldn't want to make this whole process of plucking easier and more comfortable? The Tweezerman Slant Tweezer helps to make this possible for you and they guarantee it.
Why not do yourself a favor and give these amazing tweezers a chance to show you how easy and painless tweezing can really be!