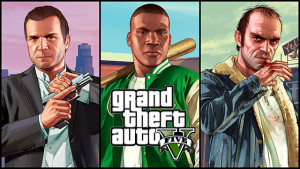 Anyone who has played previous Grand Theft Auto games knows the routine: you steal cars, shoot people, run from the cops, and so much more. The series has been a global phenomenon ever since GTAIII in 2001, but GTAV is the first to debut on the Xbox One and PS4. Setting the bar higher for themselves, Rockstar games took the classic formula and made their most ambitious change yet: bringing GTA online.
Fans of single player still have a fully fleshed out story, the major change being a shift to three protagonists instead of one. Players alternate between Michael, a reformed criminal trying to "go straight", whose cheating wife and ungrateful kids cause him to rediscover how fun his life used to be. There's Franklin, an ambitious repo man who dreams of moving out of his nagging aunt's house and into a swank mansion. Finally Trevor, an absolute psychopath who might be the most sadistic character yet, while also being ridiculously fun. What really gives the story depth is the progression of the characters: you start by solving petty grudges with bikers and towing abandoning vehicles. Once you complete a couple of heists, you feel like you've fulfilled the American dream: driving million dollar cars and feuding with billionaires and their trained henchmen. Even without GTA online, the single-player story stands on it's own, benefitting tremendously from the three-character format that keeps each protagonist interesting and fresh.
But the real excitement comes when you leave the AI behind and enter GTA Online, which manages to be an RPG, a MMO, a racing game, a first person shooter, and so many more all in one. After creating your own unique character, you're plunged into online Los Santos, where tanks, fighter jets, and armored cars roam the dystopian streets. The goal – like other MMOs – is to gain experience and money, with which you can buy superior weapons, cars, clothes, apartments, everything to customize your experience.
Getting that money is the fun part, as Rockstar includes hundreds of thousands of different modes to try out, and are constantly adding more. Perhaps you want to rob a bank, and fight through the police that arrive on a crime scene. Perhaps you want to race motorcycles upstate, using Rockstar's courses or ones you've created yourself. Perhaps you want to play a team deathmatch, where everyone is locked in a cage and the only weapon you have is your fists. Needless to say, if you are a fan of video games: you'll find something to do.
GTA Online does have microtransactions, but only for in-game money, no extra perks to give DLC players an unfair advantage. Still, for those who are too busy, you can have a brand-new Lamborgini within five minutes of playing the game. Overall, there is a great balance that's rare to find in modern online games, where you never feel like the "noob". For seasoned GTA fans or gamers new to the series, GTAV is worth it.