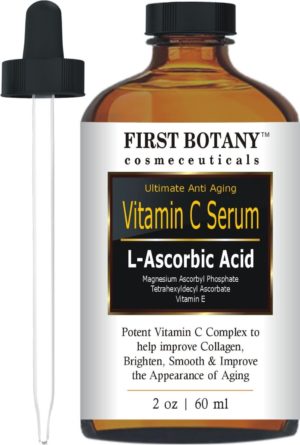 This Ultimate Anti-aging Serum contains pure and bioactive L'Ascorbic Acid and not the C esters that some Vitamin C supplements are known for. Scientists around the world have spent centuries and resources in order to discover how to stabilize Ascorbic Acid and First Botany Cosmeceuticals is the leading company that was able to do just that and mass-produce it in a bottle. Using the patented Triple C Technologies, this potent Vitamin C Serum was formulated to combat the effects of aging on adults and give them a younger looking skin. Its main function is to improve Collagen production, smoothen and enhance skin, and lessen the appearance of aging.
Benefits/Features
The serum has multiple skin benefits and it includes hydration and toning, firming and smoothening, brightening complexion, and reducing dark circles. It also boasts of its ability to help reduce wrinkles, repair damaged skin from within, fade dark spots, and give a more radiant and glowing appearance. This product is considered to be the highest grade of Vitamin C in the market so you will be assured of its superb quality, and for the discounted price of $15.95, purchasing one will definitely be worth it. Just take the amount of one dropper size and rub it into your hands carefully before rubbing it on your face and neck in an upward position.
Pros
The moment you open the bottle, you will immediately notice the essential oils' pleasant smell, which is definitely a good thing since it delights your senses. It is made in USA in a GMP certified, FDA approved manufacturing facility, and it is paraben free and cruelty free so you won't have to worry about any animal testing involved. If you buy the product, you are offered with 100% Satisfaction Guarantee, otherwise you will be fully refunded with your purchase. Also, it can be easily applied directly on the skin alone or with a lotion during the day or night depending on your preference.
Cons
There's no information on the bottle that says it is hypoallergenic so it might irritate some skin types, so in order to prevent that, it is best if you do a preliminary test on your wrist.
Also, if you're the kind of person that doesn't like a greasy appearance, then you might not like the slight oiliness of this product.
Another disadvantage is that this serum doesn't contain any SPF so you might want to lather on some sunscreen before going out during the day. It is also important to take note that if you want better results, you have to pair this serum with an additional moisturizer since its moisturizing properties, although good, can only do so much.
Conclusion
Overall, this product is amazing in almost every department and most verified users who have tried it have been satisfied and happy with their experience. This serum undoubtedly does wonders for your skin and can take years off from your appearance, and who doesn't want that? Purchase one and see the results yourself today!