When it's time to book your vacation flights, which airline do you choose? What matters most? Consumster decided to introduce you to a small but strong company: Air Tahiti Nui.
Crew (9.6/10)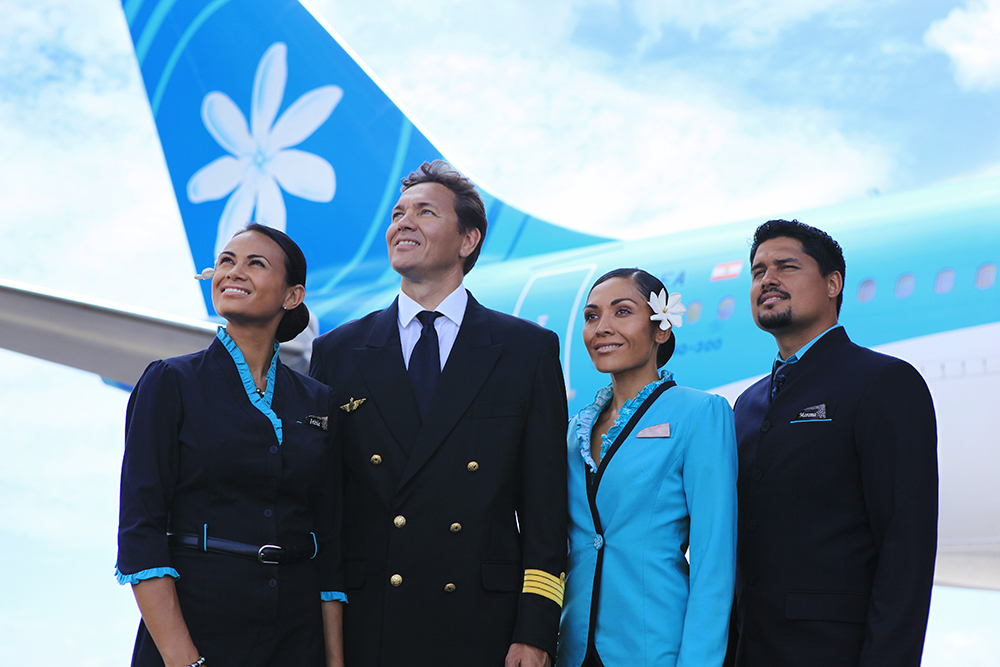 Whether you're at the airport or in the cabin, the flight attendants are friendly and smiling. The women wear a tiare flower in their hair and their uniforms are not as formal as what you see in other planes. You already in vacation.
Just after takeoff, the flight attendants start distributing paper menus and amenity kits, containing eyeshade, ear plugs, earphones and a handy wipe. Once done, they serve soft drinks and alcohol at no charge. About an hour after, they will start serving lunch or dinner, depending on the time at destination. The food is pretty tasty and usually better than what you can find on other airlines. Soft drinks, light alcohol and coffees will be served as well. The flight attendants are friendly and helpful, and the time goes by quickly; before you know it, you are in paradise!
Cabin (9.1/10)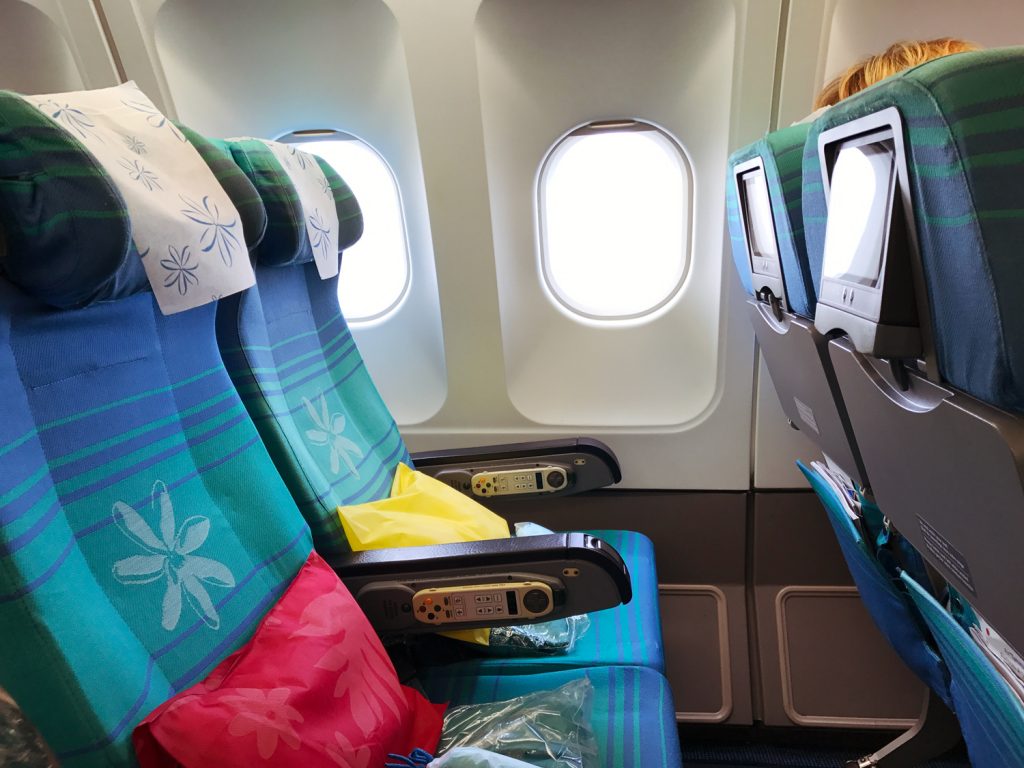 Let's get over with. The Business Class is amazing, like it should be. However, the economy class—the one most people would book—is pretty nice too. When you first step in your cabin, the nice variation of blues will catch your eyes and make you feel instantly comfortable. The patterns of the island's flowers and vegetation sprinkled everywhere makes the atmosphere relaxing and enjoyable. The 2-4-2 seat lay-out can accommodate honeymooners—majority of the travelers to Tahiti—or families and groups without distinction. Every seat has a small screen (located in the seat back in front of you). It's adjustable and allows changes when the seat in front of you moves forward/backward. There are several movies that cycle through continuously. There are also a host of games, including trivia, and the Airshow map.
Destinations (8.9/10)
With the Tahiti Island as the main destination, the possibilities are somewhat limited: Air Tahiti Nui will take you to Australia, France, Japan, New Zealand, Belgium, New Caledonia and the USA. However, the company allows you to connect to several cities within those destinations, organizing your whole trip for you, thanks to its association with other airlines and train companies.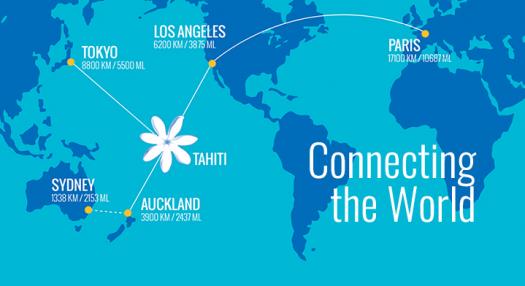 Price (9.7/10)
Air Tahiti Nui destinations being quite exotic, you might cringe when you look at the price of your ticket. When you compare the air fare to those of other companies, though, Air Tahiti Nui is always cheaper—up to half price when you book early enough in Moana Economy Class! It is also often cheaper than other connecting flights, when Air Tahiti Nui flies direct only for the main Destinations—Paris, Los Angeles, Sydney, Papeete and Auckland. However, children over 2 years old—or on a seat—travel for the same price as adults. No discount there.
Reviews (8.7/10)
Most reviews we found online complained about the leg-room, which is about the same as any other Economy Class. And that was it.
Travelers seem to be happy with the amenities, the food, the cleanliness of their cabin and, most of all, the crew. Users usually pledge appreciate the efficiency of the flight attendants and their desire to satisfy their customers. The company also accommodates dietary needs, as long as you ask ahead of time.
With all that in mind, we strongly advise you to consider Air Tahiti Nui to travel to your next vacation destination.

Pros
Flight attendants friendly & helpful
Exotic destinations
Lowest price available on a direct flight
Calming ambiance and colors
Good economy cabin lay-out
Cons
Kids over 2 pay full price
Limited destinations available
Does not fly every day
Leg-room a little small