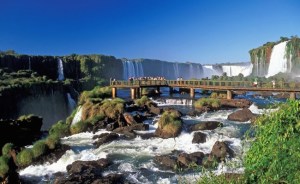 About Impressions of South American Tours
Beginning in Rio De Janeiro and ending in Bueno Aires the impressions of South Americas tour offered through Trafalgar is a leisurely trip with plenty of opportunities for sightseeing. The standard sights available when you book through Trafalgar are: ascending Sugar Loaf Mountain, a trip to Iguassu Falls, scenic walks through the rainforest, Devil's Throat Falls, and guided city tours. Options experiences include dance lessons, feasts, guided tours, and a three-hour cruise.
The price of the trip includes travel between the destination on the tour, hotel accommodations, and the ease of having a professional guide. Additionally the trip includes comfort items such as headphones when traveling and travel by a luxury air-conditioned coach. The itinerary offers a mix of guided and group outings with leisure time to either book an independent local experience or explore.
How Impressions of South American Works
Airfare at the start of the trip is up to you financially however the agency can help you to make your booking. Once arriving at the beginning of the tour your tour director will guide you through the itinerary, checking in, and offer assistance as needed. Hotel rooms and travel arrangements are already made making the experience stress-free. Each day has structured activities and leisure time with options for additional leisure.
The South American trip includes group outings and private sightseeing times. There is an itinerary so you will have to leave each spot with the group. A tour director is available for questions, and help with all aspects of your vacation.
Impressions of South American Pricing and Refund Policy
The basic costs through Trafalgar for an Impressions of South American tour are $3,529 per person for a ten day vacation experience. Prices change and go up depending on date and accommodation requests. The tours are inclusive of four evening meals, one lunch, and nine breakfasts, and include accommodations. The price does not include airfare to and from your home. Guests can book additional experiences and meals ahead of time for extra pricing. The ability to choose the excursions that are most important to you is a cost-saving feature of the experience.
If you miss the trip or become ill on the trip refunds are not issued. Therefore making sure all of your necessary vaccinations and documents are in place to ensure you can travel is essential. Additionally purchasing travelers insurance is a solid investment.
Bottom Line
For those wishing to have a vacation without planning all of the small details and being able to see multiple cities and sights during the time a travel tour is a worthwhile investment. However, if you are someone who enjoys the experience of more spontaneity a travel tour may not be your best option. Cost-wise travel tours can be more expensive than booking your own trip, however travelers often comment that the ease is worth the additional costs. For persons who wish to have a vacation without worrying over itineraries and details booking the South American Tour is a solid way to travel.