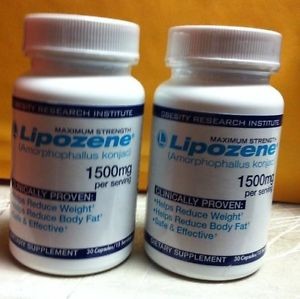 LIPOZENE REVIEW
Intro
Today, I will be focusing my attention on this Lipozene Review. Lipozene is a dietary supplement that is designed to help some people to lose weight. It is available online or in retail stores such as Walgreens, CVS, and Wal-Mart. Lipozene helps you with it's most active ingredient, Amorphophallus Konjac, which is a super-fiber form from the Konjac Root. What's unique about Lipozene is that the main, active ingredient has the ability to volumize it's size in order to make you feel fuller faster. You can take up to 2 capsules, 3 times  day before each meal for a total maximum dosage of 6 capsules.
Features & Benefits
You can expect to lose weight and body fat, however Lipozene website does emphasize that weight loss varies depending on each individual as everyone's body is different. Lipozene contains a super-fiber from the Konjac root. The fiber actually makes you feel fuller quicker and extends the feeling of hunger by slowing gastric emptying.
How it Works
Lipozene's main super-fiber ingredient works by expanding in your stomach in order to simulate the feeling of fullness. The fiber also slows down and extends the amount of time it takes for you to feel hungry again as well. According to the Lipozene website not only did participants in a clinical study lose weight, but the majority of each pound lost was body fat.
Pros
Available at retail stores and online

Backed by scientific, clinical studies

Reputable company
Cons
Product has expiration date

Some negative customer reviews found online
Price
A Lipozene 2 Trial Package is available online at Lipozene.com for $29.95. However, you can find a 2 Bottle Bonus Pack at Walgreens online priced at $19.99.
Return & Refund Policy
Lipozene boasts a 30 day return policy. According to the Lipozene website, you must contact Customer Service in order to take advantage of the Refund Option.
Rating
8.2