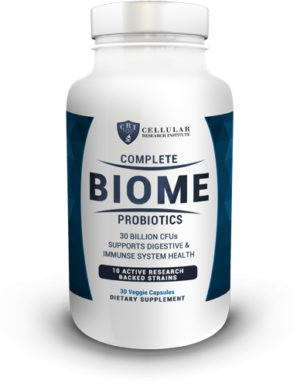 One of the newer supplements on the market, Complete Biome is geared towards customers who suffer from gut and digestive discomfort, and is focused on relieving their symptoms. It contains several strains which work to relieve GI tract irritability, replenish gut health, and even stimulate body immune response time. Complete Biome also works to stop the flow of unhealthy bacteria in the digestive system and has even been reported to relieve symptoms of Irritable Bowel Syndrome.
The search for a reliable GI-friendly probiotic, however, is often confusing at best. There's so many brands out there to choose from that it's hard to know whether a supplement actually lives up to all its promises.
So does Complete Biome work, or doesn't it?
CompleteBiome Formula is packed with a variety of strains, the exact dosage of which is available on the company website. Many of these strains are highly beneficial to the gut, including:
Bacillus Subtilis (B. subtilis), a strain often used for GI tract disorders. Call it a kind of beneficial digestive bacteria, one that helps maintain healthy gut balance.
Bacillus Coagulans (B. coagulans) is commonly utilized after antibiotic usage, and helps relieve inflammation and pain in the bowel, as well as digestive irritations.
Lactobacillus acidophilus is another highly-resistant strain located in the intestinal tract, which helps preserve the important flora your gut needs to thrive.
Bifidobacterium Lactis arouses the body's immune response system, and aids cellular immunity in older adults.
Bifidobacterium Longum — this strain helps prevent pathogenic organisms from invading the intestinal tract
Lactobacillus Rhamnosus helps relieve GI pain and irritability, mainly by stopping the growth of harmful bacteria in the stomach and intestines. It also prevents bacterial infection in the gut.
Lactobacillus Salivarius stops the growth of pathogenic bacteria in the gut, and is the most frequently-used probiotic for IBS (Irritable Bowel Syndrome) sufferers.
Lactobacillus Casei may be helpful for numerous gastrointestinal symptoms. This strain is usually found in fermented foods like sauerkraut and pickles, and is also used to make yogurt and cheese.
Bifidobacterium Breve is a strain known for its many benefits – everything from colonic health and yeast infections to infant diarrhea and pollen allergies have been reduced with its help. Several patients also claim to have reported an increase in energy and vitality as a result of this strain.
Complete Biome is made in an FDA-approved lab, and each capsule comes with 10 probiotic strains – specifically designed to promote gut health and relieve GI irritability. One capsule is filled with 30 billion CFUs (colony-forming units) to help relieve your gut of harmful bacteria. Complete Biome's vegan/vegetarian capsules are also completely organic, and free of any preservatives, egg, milk, starches, soy, or wheat. The suggested dosage is 1 per day, preferably taken during a meal or as otherwise told to by a healthcare professional.
CompleteBiome also fills their capsules with as many probiotics as possible, in order to ensure potency and that the living organisms are still high-functioning when they reach your GI tract.
CompleteBiome also comes with a 90-day money back guarantee, and if you're unsatisfied for any reason, you can send Complete Biome back (opened or not).
CompleteBiome retails for $44.99 a bottle (+ $5.95 in shipping), which many shoppers may find too expensive. It does, however, come with a 90 day, money-back guarantee. So if you're willing to spend a little extra change to see if it works for you, Complete Biome might be worth the investment. The website has its share of positive reviews, while reaction elsewhere seems unavailable.
Probiotic Strain Potency
9.6/10
Probiotic Quantity
9.6/10
Pros
Science Backed Formula
Hight Potency Probiotic Strains
Made in a USA in a FDA approved Lab
Offer 90 day Refund Guarantee
Cons
Produced in Limited quantities
Goes on back order frequently
Only available online
First 3 days customers can experience upset stomach due to the changing the gut flora, but fine post 3 days.